On Saturday Hisae and I visited an installation by
Ben Roberts
, a British sound artist who lives in Madrid. At Radio Aporee, a gallery / living room on Bürknerstrasse, near our house, Ben had assembled some old cassette players fitted with wand-mounted VCR heads capable of reading -- turning into gloopy sound -- any kind of information stored on magnetic tape: the stripes on credit cards, the backs of metro tickets, old computer spools, and of course audio tape.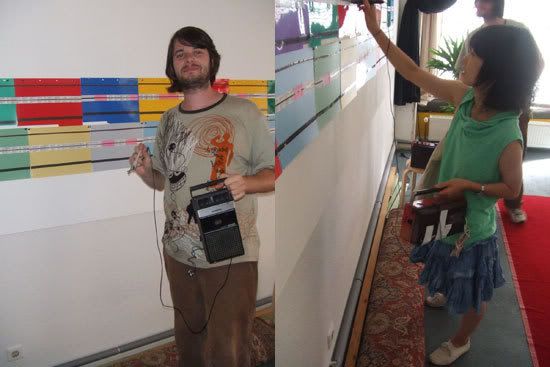 Ben gets most of his tech-junk from
El Rastro
, Madrid's famous hillside market district. He's a bin-diver, a re-jigger, a crank engineer. The show was trailed as "a chance to hear what your credit card sounds like", but I was a bit nervous to "play" my bank cards; last week one of them spontaneously de-magnetized and had to be replaced. (Also I suspect the "music" my cards would make would be somewhat tragic; the sound of an electronic stomach grumbling emptily, perhaps, or 8-bit Mahler?)
Instead, I swiped the lengths of tape Ben had assembled on the gallery walls; Madrid metro tickets, old language-learning reel-to-reel tapes, ancient computer data. These all had their own distinct sounds, and were mounted on different colours of paper. It was easy to hear them as drumkits (the computer data was particularly rhythmic), vocals, solos, and so on. Soon Hisae and I were jamming "tape jazz" as if it were the most natural thing in the world.