At a British airport. What to buy with the few pound coins in your pocket, before you return to the euro-zone? Magazine rack. Glitz and bling and blondes. The music section seems ever-shrinking. Not just shrinking, but aging. Rock stars in their sixties on the cover. Or dead rock stars.
"Joy Division -- Love! Fear! Isolation!" cries
Mojo magazine
. Roll up! Roll up! Suicide! Archives! Free CD! "With two new films and a raft of reissues, 2007 will be the Manchester moodists' year." What a shame Ian isn't around to enjoy the misery!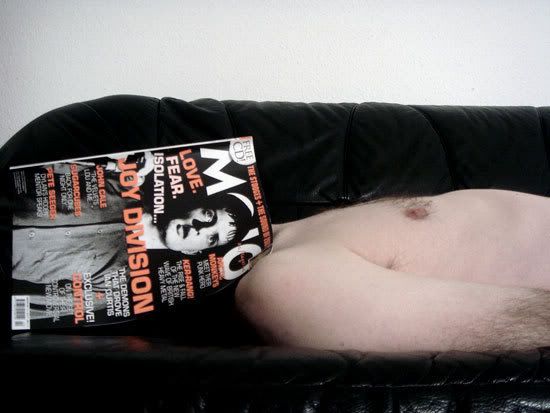 What is this retro culture, this necro culture? Where did this death thing begin?
When did
Mojo
start?
November 1993
. The year before I left Britain for Paris, and three years after I bought my first CD player.
Mojo had an American look. Kind of cluttered. And it was mostly about old rockers and dead rockers. It was like Q magazine beyond the grave.
I'm not saying it wasn't good. We were all, at that point, drawing some inspiration from things retro. As well as buying new records, we were replacing old vinyl with CDs. They were parallel projects. That's what you did when you bought a CD player.
Ah, yes, the arrival of the CD. We have to blame that too. Suddenly record labels were reissuing
everything
. Why put out new stuff when you can make tons of money just putting out old stuff? Archive fever. The labels got it, and we got it too. For the first time, you could see the "history of rock" stretching out decades behind. You could have it on your shelf, organized by decade. You could appreciate how Oasis sounded like The Bea--
STOP! STOP THIS NOW! Let's not justify it! It was a horrific time, a time of horrific conservatism! Death began to creep over the medium I loved! What should have been covered with warm sperm started being covered with mold and worms and bacteria!
Mojo means libido. In
the second Austin Powers film
(1999), Dr Evil has stolen Austin's mojo. "The sexually wounded swinger must travel back in time and, with the help of agent Felicity Shagwell, recover his vitality."
So, late in the 90s, Bobby Gillespie -- a man who's spent most of his life impersonating older rock stars -- hits 40 and declares that it's okay, after all, to be old. "The young can't get it up," he says. Iggy Pop can. And, lo, Iggy's wizened face appears everywhere, and young bands just sound like Iggy wannabes. Or, you know, somebody wannabes. The weight of the past gets bigger, for some reason.
From a distance, for those of us less committed to rock'n'roll values than Gillespie, something looks seriously amiss in music. Why did we choose pop music instead of classical? Because classical was an academic art, an interpretive art, a conservative art, locked into a fixed roster of dead geniuses. But look, that's what pop music was becoming too! An undertaking for undertakers. In fact, classical was probably changing quicker!
Some of us started jumping ship. The art world seemed to be about now. It seemed to have a libido, a mojo rather than a Mojo magazine. It seemed to be about the deliciously confusing plethora of new names, contemporary production, flow, invention, novelty. Creativity was here. Rock, meanwhile, was set in stone, a tombstone. It was official culture, and even the new bands were just parodies of the old ones, the good old ones from the good old days.
So here's Ian Curtis on the cover of Mojo magazine. I read it on the plane. I like to read about death on planes, because I'm afraid of dying on a plane.
Love will tear us apart, but death will bring us together. You sometimes think, with these necro-retro magazines, that death is more like a debut than a departure. Death is the precondition of entry into their pages. Death makes you the readers' best friend. If you're dead you're an alright geezer. You've joined the club, you're in the archives. Here comes Syd Barrett! He's dead, so he's here with us! Good old Dead Syd!
The annoying thing about living artists is that they just won't lie down and be what you know them to be. Here's Ian Gittins,
reviewing
my Spitz show in The Guardian last week. "20 years ago he was a fey acoustic poet writing cerebral, lascivious songs of sexual opportunism. He was a tremendous wordsmith, yet his self-consciousness made his gigs distinctly underwhelming affairs. Two decades on, this hyper-literate cult artist has long eschewed the guitar in favour of barbed electronica and baleful glitch-pop. He has also taken the questionable decision to tackle the problem of his extreme shyness by turning his live performances into a one-man theatre of the absurd... At its best, this cracked auteur's music aches with a stark melancholy, and his erudite words can work as standalone poetry. Sadly, tonight is all about slapstick..."
For Gittins, I'm potentially Nick Drake -- if I'll just lie still. You get the sense that there'll be a great sigh of relief when the obituary can put everything in the past tense and the silly vaudeville routines, the awkward dancing, stops forever. But I REFUSE TO DIE! I like dancing! I like mixing the serious with the silly! I think I've got the balance just right! And what's all this about "extreme shyness", Ian? Don't you remember that party you threw out in Kew, when I started kissing some Irish girl and then dated her sister for a while? Was that the behaviour of a shy, melancholic bard, Ian?
Leave a nice corpse, leave a nice back catalogue. Thom Yorke will, I'm sure. His moaning style will sound even better from beyond the grave. Death will give him the ultimate reason to moan. But some of us like life. Some of us want to dance. Some of us remember Yeats' lines:
An aged man is but a paltry thing,
A tattered coat upon a stick, unless
Soul clap its hands and sing, and louder sing
For every tatter in its mortal dress
Don't get me wrong, I use death in my work too. It's the shadow cast by the sun, the black backing the mirror needs to reflect. I'm always going on about the beauty of museums and sobriety. In
the mp3
of my Tate gig I stretch the word "death" over about 20 seconds. And I announce the second song as "a requiem for my libido". But "Ex-Erotomane" turns out to be a bit tongue-in-cheek: grief-as-celebration. And my reason for liking museums more than rock concerts or clubs is that there's more love of life there -- precisely because everybody who made that stuff is dead.
Then again, couldn't that be used as a justification for Mojo? Isn't that like saying the young can't get it up, and so you turn to the dead? They're rock hard, you know.