Last week The Lancet, Britain's foremost medical journal, published a study into the harmful effects of drugs. "Professor David Nutt from the University of Bristol, Professor Colin Blakemore, Chief Executive of the Medical Research Council, and two colleagues developed a new drug ranking system that would class socially acceptable tobacco and alcohol as more harmful than cannabis, and considerably more dangerous than Class A drugs such as ecstasy and LSD," reported the AP.
Blakemore and Nutt said that the current UK government drug classification scheme "is not a rational, evidence-based method for assessing the harm of drugs". The one they've come up with, on the other hand, is. Here are the results: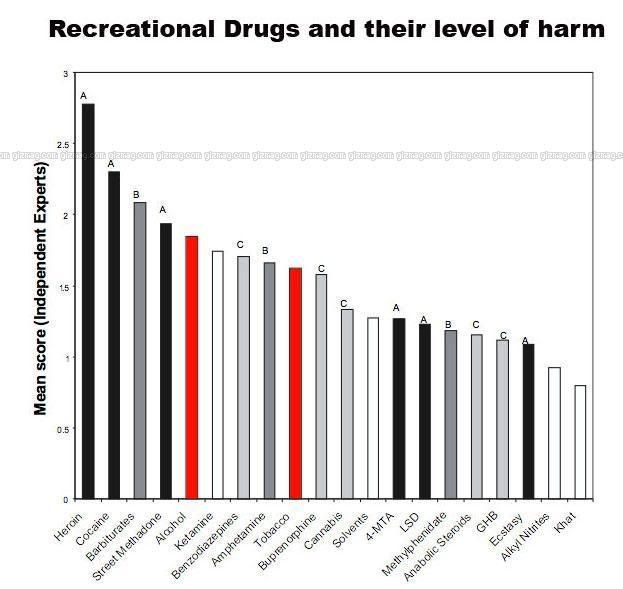 Apart from making me want to trade my stock of Neumarkter Lammsbrau Weisse Bio for a big swatch of chewy khat, the report pleased me for a number of reasons.
First of all, I thoroughly approve of the idea that things which are considered normal and mainstream may be amongst the most toxic. This is absolutely central to my thinking, and it's one of the things that dismays me about our time -- the fact that "evil" is said to spring from deviant subcultures and "rogue nations" rather than from ourselves, or that "drugs" are defined as everything
except
that which resides in a cabinet minister's cocktail cabinet.
Secondly, I think the idea of a "rational assessment of harm" that looks also at "the things we do" is nothing short of revolutionary. For instance, we know George Bush has an alcohol problem. Can the casualties of his ill-considered Iraq invasion be counted amongst the victims of alcohol? This new logic needn't be confined to drugs -- can we have a rational approach to, for instance, WMDs? If the evilness of Weapons of Mass Destruction was Blair's reason for attacking Iraq, could Blair at least be consistent and declare that he's not, after all, going to renew Britain's Trident, which is, precisely, a Weapon of Mass Destruction?
I think you can see where I'm heading. This "rational" idea could be the biggest thing to hit politics since "targets". It could even apply to The Lancet itself. The medical journal came
under attack
last week too when, according to AP, "physicians from around the world urged the publisher of The Lancet medical journal to cut its links to weapons sales, calling on the editors to find another publisher if Reed Elsevier refused to stop hosting arms fairs".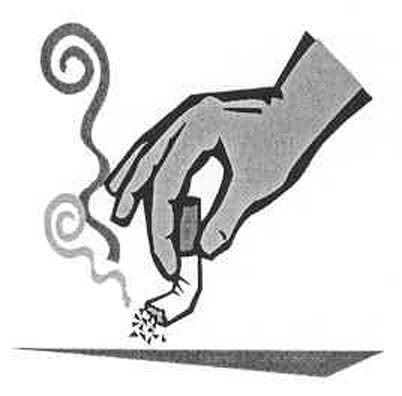 Tobacco continues its path towards disgrace and humiliation, its transition from "things that are considered normal" to "things that are considered toxic and marginal". I'm delighted to say that even in Germany -- Europe's biggest tobacco market -- we non-smokers are about to enjoy the kind of protective legislation that'll allow us to come home from evenings out without smelling like an ashtray (and, later, dying of secondhand cancer).
The German government
agreed on Thursday
to ban smoking in restaurants and pubs, unless it happens in designated smoking rooms closed off by doors. Smoking is also being banned in discos and nightclubs, schools, old people's homes, public buildings, trains, taxis and all other public transport -- although trains will still be allowed to allocate smoking carriages.
The public smoking issue clearly fails the libertarian test that vices should be permitted "as long as they don't hurt anybody else", and a ban in Berlin -- the smoker's
Mahagonny
-- is long overdue. It's also very hard for me to refrain from saying Germany and Japan have been "behind" other nations in banning public fag fug, although I don't believe in declaring nations "behind" or "ahead of" others -- just different. Okay, Germany and Japan have been guilty of a "bad difference" here, and for once I can say the Anglo nations have led the world. Now we just need them to apply this newfangled "rational" idea to the other harmful stuff they do, like selling weapons and sending soldiers all over the world to kill people.