It may have been Cheshire Dave who first had the idea to make movies with typefaces as the central protagonists. His
Etched in Stone
stars the Trajan font which so perfectly encapsulates Hollywood's imperial aspirations (Trajan is, appropriately enough considering our theme these last couple of days, a murderer -- of producers who use other fonts, not national film industries). Dave's
Behind the Typeface
features a somewhat anthropomorphized Cooper Black (is he
really
meant to sound African-American?).
For those of us who prefer our fonts -- and our films -- a bit more post-protestant and understated, the new documentary by Gary Hustwit,
Helvetica
, might be the kind of thing we'd rather make lines around the
grid
block for. And that's exactly what typeface maniacs have been doing -- a recent screening of Helvetica saw 300 seated and a further 200 turned away.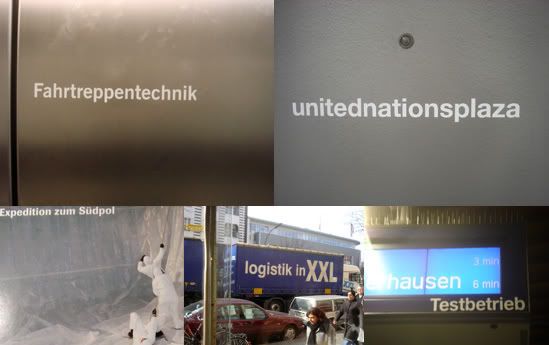 Luckily there's a
clips page
where you can see
a video montage
of random Helvetica glimpsed on the streets of Berlin (my own montage is above -- we're spoiled in this city), or
Experimental Jet Set
talking about Modernism's subversive dialectical side, or even my design commentary mentor
Rick Poynor
talking about how type "casts its secret spell".
But perhaps the most interesting clip, for me, was one which apparently didn't make it into the final film,
an outtake
in which Massimo Vignelli talks about the beautiful New York subway map he and his Unimark partner Bob Noorda designed in 1972. You can see the map
here
, and read Michael Bierut's account of its creation
here
.
Bierut compares Vignelli's map to Marxism (maybe that's why conservative pundit Michael Blowhard, in the comments section, tells us he doesn't like it!): "It was as logically self-contained as Marxism. And, like Marxism, it soon ran afoul on the craggy ground of practical reality." The problem, Bierut explains, was that Vignelli's map followed Henry Beck's famous London Underground map in the way it privileged graphic clarity over geographical accuracy. But because of New York's ultra-rational grid plan, "the geographical liberties that Vignelli took with the streets of New York were immediately noticable, and commuters without a taste for graphic poetry cried foul".
Vignelli certainly has a taste for poetry. "I think it's the most beautiful spaghetti work ever done!" he says of his own map. He also has some theories about why it was replaced by the ugly hodge-podge of a subway map we have today:
"The fact... the reality is that 50% of humanity is visually oriented, and 50% of humanity is verbally oriented. So the visually oriented people have no problem reading any kind of map including, you know, road maps. And the verbal people, you know, they can never read a map. So it's just because of that dichotomy between one and the other. But the verbal people have one great advantage over the visual people. They can be heard. And that's why they changed this map. They start to complain, these people, opening their mouths, in vain, until the beautiful map was substituted by the junky one."
Not only was Vignelli's beautiful map rejected, but now, looking back at it, he thinks it was a mistake to put Helvetica on it at all. He thinks he should have made it even more abstract and systematic, just a sinuous diagram of flowing colours without any reference to the real geography of New York. And his punishment for saying this seems to have been a further excision: the banishment of his map from the Helvetica film.