A few months ago I
crossed swords
with Richard Lloyd Parry, the London Times' Tokyo-based Asia correspondent. Parry parried my thrusts (accusations about the visual shabbiness of his blog
Asia Exile
, and his attitude to Donald Richie) fairly vigorously, and we shook hands and parted company on speaking terms. Since then, I occasionally glance in the direction of Asia Exile to see what he's pondering.
Parry's latest entry there is entitled
Flying Seoul-o
. It sets out to answer the question "Who are the world's biggest wankers?" and answers it with reference to a page of
Pornography Statistics
hosted by a company that sells internet filters (and therefore has a vested interest, one might think, in stirring up moral panic).
So, apparently -- according to this page -- the world's biggest (or biggest-spending) wankers are the South Koreans. Whereas the average Japanese spends $156.75 per year on porn (quite a lot compared with the average German's $7.70), the average Korean is spending a whopping, incredible, orgasmic $526.75 on porn. "Despite having a population a fraction of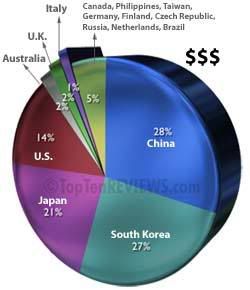 its size," says Parry, "they almost match China for total annual expenditure, consuming a full 27 per cent of the world's porn. Ladies and gentlemen, the Golden Merkin Award for number one in the 2006 Worldwide Pornography Revenues Table goes to . . . South Korea!"
Now, this statistic piqued my, ahem, curiosity. I've never actually seen a Korean porn site. So I decided to try and find one. A keen googler and what I assumed must be the world's largest porn industry (at least by per capita consumption) should have taken mere seconds to connect with each other. But, in an hour of fruitless googling, my seed fell on barren soil. I couldn't locate a single Korean porn site based in Korea.
What I did discover, though, was a wealth of information about South Koreans, the internet and sex. I shall now share this with you. Some of it is astounding.
First of all, the Koreans are incredibly wired. 12 million out of the nation's 15.5 million households are hooked up to the broadband Internet, says
The Korea Times
. 70% of Koreans are online for an hour or more each month, higher than any other country in the world per capita.
Secondly, the Korean internet is not foreigner friendly. Of the nation's five portals (Naver, Daum, Nate, Yahoo Korea and Paran) only one (Daum) doesn't make it difficult or impossible to subscribe if you aren't Korean, according to the Korea Times article
Foreigners Excluded from Korean Sites
.
Thirdly -- and this is something you'd expect to be a huge story, and the Times Asia correspondent to have mentioned -- the South Korean government has recently been clamping down on internet sex after some laughably tame incidents in March. An article entitled
Foreign Porn Sites Will Be Blocked
explains that it all started when two porn videos appeared on Yahoo Korea on March 18th. "Daum, the second-largest portal site, also carried an audio-visual file of foreign fashion models exposing their breasts for approximately seven hours last Tuesday," Korea Times reported. "On the same day, a Web surfer posted a nude photo of a woman at the top portal Naver but the company did not remove the picture for about four hours."
The South Korean government responded to these "wardrobe malfunctions" with wild abandon. "We are set to deny access to porn sites based overseas, with details being unveiled early next week," said the Ministry of Information and Communication. According to
ZD Net Asia
, the government's Korea Internet Safety Commission will use domain name and URL filtering methods to check not only IP addresses but also file indexes and sub-directories as well -- "because most of obscene materials originate outside South Korea".
So is that alleged $526.75
per annum per capita
Korean pornspend all heading into the coffers of Japanese porn barons? Apparently not. The
International Herald Tribune
reports that "the Ministry of Information and Communication already has blocked 211 foreign pornographic Web sites, mostly based in the United States, as well as all local porn sites. It plans to extend the crackdown to another 180 major foreign sites by May."
All foreign porn and all local porn blocked? What kind of country is this? Don't they know that
porn is one of the main drivers of technological innovation
?
But it's Catch-22. The more difficult masturbation gets in South Korea, the more necessary it becomes. The backdrop is a nation with an incredibly conservative attitude to sex. According to the
International Encyclopedia of Sexuality
, a 1996 survey found that 88.1% of South Korean female students thought that virginity should be kept until marriage. Attitudes to masturbation were shaped by religion, although Korean Christians were more tolerant of masturbation than others: "Buddhists were least positive about masturbation, 54.5 percent, compared with Protestants, 76.9 percent, and Catholics, 91.7 percent."
"As one might suspect from what has already been discussed," the Sexuality Encyclopedia entry concludes rather sadly, "sexual behavior and relationships among Korean single adults are very limited because of negative attitudes toward premarital sexual relationships and the frequency of marriages arranged by parents or according to their socioeconomic status. Thus, it is likely that single adults do not feel a need for sexual relationships."