Midori Matsui is Japan's most important art critic. I thought today I'd tell you a little about her concept of
Micropop
. I think it's an interesting way of framing not just the current generation (mostly people born in the mid-70s) of Japanese artists and the way they feel about art and life, but also a way of framing Japan's sense of where it stands in the world -- though that's changing.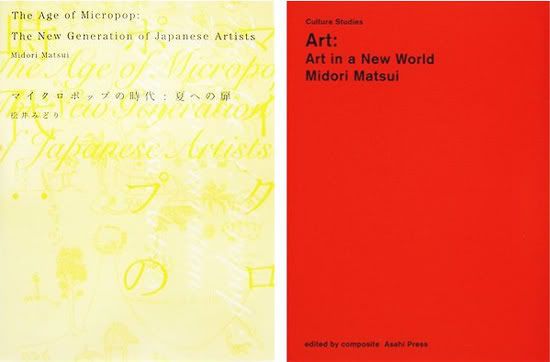 I arrived in Japan this May just a couple of weeks too late to see the big group show
Micropop: The Door Into Summer
, curated by Midori Matsui at Art Tower Mito. It included the artists Yoshitomo Nara, Tam Ochiai, Chihiro Mori, Masanori Handa, Taro Izumi,
Koki Tanaka
, Hiroshi Sugito, Kaoru Arima, Ryoko Aoki, Aya Takano, Mahomi Kunikata, Shimabuku, Rika Noguchi, Hiroyuki Oki and "KK", an artist who doesn't wish to reveal his or her identity. Parco published a book by Midori and others called
The Age of Micropop
to coincide with the show.
So what is it that these artists have in common? According to Matsui, it's "a small-scale avant-garde approach" she compares to Deleuze and Guattari's concept of "minor literature" (explained in their book
"Kafka: Towards a Minor Literature"
). With Kafka, that was all about making a quietly subversive niche for oneself in between all sorts of major power blocs -- the German and Czech languages, the Austro-Hungarian Empire, the Jewish and Gentile worlds, the major capitals of Europe and the provinces, capital and labour (don't forget that Kafka was employed at the Workers' Accident Insurance Bureau), and so on.

"Micropop," says Matsui, "attempts to create a new aesthetic consciousness and norms of behavior through the combination of fragments of information gleaned through one's own experience, in an age where history has come to be viewed in relative terms, and in which those spiritual statements that once served as the source or stronghold of various values have lost their authority. That approach can be described as a "small-scale attempt at survival".
Taking a cue from a Matsui article in ArtForum, I described three Japanese artists (two of whom are in the Micropop show) as
Supereveryday
. I described how these artists "emphasize the trivial, the idiotically comical, the throwaway, the yuck. They mostly make video art, shading into installation and performance. They work without money or ambition, shooting pigeons, balloons, combinis, making what sometimes seem like private jokes for their friends. There's a strategic unshowiness about their work". I also described how this new work was a kind of low-key, deadpan reaction to the pomp and hype of Takashi Murakami's 90s generation. The Micropoppers are closer to
Cute Formalism
than
Superflat
.
Let's look at some of the words Matsui has been using to describe the Micropop thing. It's peripheral, she says. It's new. It deviates and wanders, rephrases and recodes. It's something that happens at the end of big narratives, something that embraces fluidity and indirection. It's how you live after the dominant, compelling stories are played out -- by exposing your personal fetishes, perhaps, making private jokes. Think of a post-religion Beckett having Molloy
rotate sucking-stones
between his pockets and his mouth. It's personal and small and trivial, but not un-lyrical, and not without its own weird private rituals. It accepts fragmentation and relativism. It's interstitial and tactical (Matsui drops
Certeau
's name in her essay, of course) and obliquely, even autistically, defiant. The artists of Micropop have something in common with children, immigrants and consumers.
If these new artists are weeds springing up in the cracks between major power blocs, it's tempting to think of one of the cracked flagstones as Takashi Murakami's
Kaikai Kiki organization
, somewhat tarnished by overheated sales, over-eager commercialization, and over-hype. While Matsui certainly does have a bit of an attitude towards Kaikai Kiki, she hasn't denounced them. Two of the
jimusho's
artists appeared in her Art Tower Mito show.
There's also, I think, a parallel and a continuity between the theme of Murakami's
Little Boy
show at the Japan Society New York in 2005 and what Matsui is telling us about Japan's sense of itself today. Both Murakami and Matsui talk of a Japan infantilized by its post-war dependence on the US, a junior partner stuck in an eternal childhood, perhaps reaching a perverse and orgasmic adolescence but never able to go beyond that into any sort of adulthood. The passive aggressive strategies (the Certeau-style "tactics") of much of the Micropop work just confirm a certain sort of shifty adolescent behaviour.
But we mustn't forget the other elements of the Micropop description: the breakdown of big narratives, and the embrace of flux and flow. Things are changing, and the old power blocs are crumbling. The United States, for instance, has (as we
note every time the Pew publishes a Global Attitudes survey
) taken
a big hit on its credibility
over the course of this decade. In response, Japan is now seeking to establish an independent military and
start pulling its weight in the world
. This is either the "little boy" growing up, or frightening right wing militarism and a reversion to the values of World War II, depending on whether you look at history from the perspective of the last century or this one.
Either way, it looks as though tomorrow's Asian artists will have plenty of new power blocs to push up fragile leaves between.