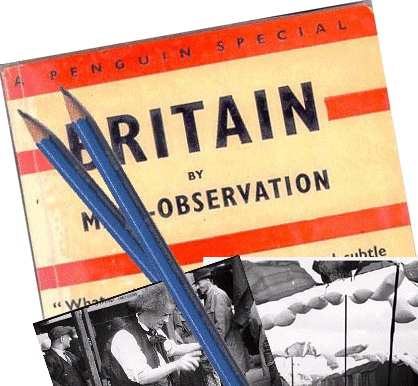 In 1936 King Edward VIII of Britain gave up the throne to marry the American divorcee Wallis Simpson. One of the stranger results of the abdication crisis was that, indirectly, it inspired
Mass Observation
, the greatest grass-roots documentation project Britain has ever known. I'm thinking about Mass Observation right now because I'll be making sonic 'observations' of the people of
Hakodate, Hokkaido
in a couple of months. But also because blogging is a form of 'mass observation'. It's all about gathering information about what people are really thinking and feeling.
Edward's abdication really brought home to British left wing intellectuals the gap between themselves and the masses. Rather than thinking in terms of class struggle, the British population was obsessed with royal tittle tattle and romance. (
Plus ca change...
) One of these intellectuals,
Charles Madge
, wrote a letter to the New Statesman saying that it was time the left found out what the British people were really preoccupied with. This, he said, should be done by a series of 'mass observations'.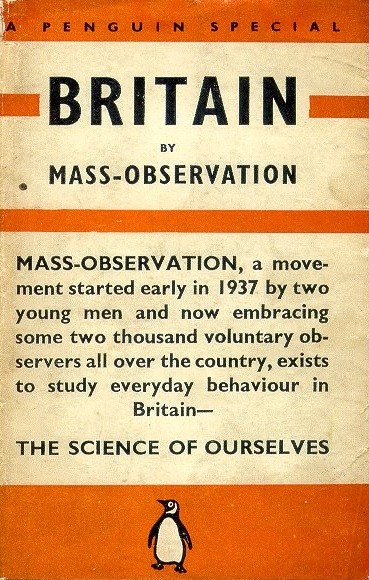 And so, in 1937,
Tom Harrisson, Charles Madge
and
Humphrey Jennings
set up Mass Observation. They aimed to create an 'anthropology of ourselves' by studying the everyday lives of ordinary people in Britain. They recruited a team of observers and a panel of volunteer writers. By the end of 1937 there were more than 500 unpaid volunteers working on the project. First, they were asked to keep a detailed account of everything they did from waking to sleeping on the 12th day of each month for a year. Later, special days - such as Easter Day and August Bank Holiday - were chosen and recorded in the same way. The team of observers went into many different public situations -- meetings, religious groups, sporting and leisure activities, the street, work. They recorded people's behaviour in as much detail as possible.
You can see the contents of the Mass Observation archive
here
. It's kept in a rather charmingly ramshackle series of numbered boxes. Box TC7, compiled in 1938, is titled 'Happiness'. It contains a survey dressed up as a competition, 'What is Happiness?', an assortment of typed statements on happiness, handwritten analytic tables, handwritten quotations from Rousseau and Pope, two pages from the New Statesman and some follow-up questionnaires. Box 12 is about sexual behaviour. Appendix 1 is entitled 'Abnormality' and contains an incomplete handwritten account of a visit to Brighton by a group of homosexual men. Although Jennings and Madge moved on, Mass Observation continued throughout the Second World War. The project continued into the 1950s, during which time a series of books and many reports were published. The archive is currently kept at the University of Sussex, and you can find out more at their
Mass Observation website
.
Humphrey Jennings
, described by Lindsay Anderson as 'the only real poet that British cinema has yet produced', was the son of an architect and a painter. He took a starred first in English at Cambridge in the 20s and edited a literary magazine called Experiment. In 1934 he joined John Grierson's GPO Film Unit, which made famous poetic propaganda films like the W.H. Auden-scripted 'Night Mail'. In 1936 Jennings helped organise the first Surrealist exhibition to be shown in London and in 1937 helped found Mass Observation. Throughout the 40s he directed documentaries including the morale-boosting classics London Can Take It and Fires Were Started, films in which working class people talked unscripted (rare at the time) and people could be seen scratching, loitering, chatting. Jennings died in 1950 on the Greek island of Poros after accidentally slipping off a cliff while location-scouting for The Changing Face of Europe, a film about health.
There's a good Channel 4 microsite about Kevin McDonald's documentary

Humphrey Jennings: The Man Who Listened to Britain
. On it you can see short clips of Jennings' films
Spare Time
,
Listen To Britain
, and
Fires Were Started
. The glimpse they offer of 1940s Britain may not be 'unmediated', but it does preserve that era's otherness better than most accounts.
There are deep ironies in Jennings' work. His decision to depart from Marxist class analysis and look, instead, at what British people were really interested in might be seen as the first of many concessions and compromises made by British media professionals, who've preferred to pander to populist taste rather than educate and politicize. His mixture of propaganda and observation is epistemologically uneasy, and could be seen as the beginning of 'the society of spectacle' and even of the bogus 'observations' of reality TV. And it's odd that the other 'poet' this gifted left wing film-maker makes us think of, as we watch his staged scenes of ordinary working class heroism and feel the deep 'otherness' of the 1930s and 40s, is Leni Riefenstahl.