Some of the things I've been to, or plan to go to, this week in Edinburgh.

A dramatization of the life of Stanislaw Ignacy Witkiewicz.

A clever, preppy American comedian called Demetri Martin (he looks like Marxy).

No fewer than three Ian Hamilton Finlay shows, and Little Sparta, his Pentlands grove.

"The Grey Automobile", a silent Mexican gangster film with fake subtitles, live piano accompaniment and live translation into Japanese, Donald Duck-speak, and barking.

A Korean "Midsummer Night's Dream From The East". Followed the Korean actors down Chambers Street and decided they were the best-dressed people in Edinburgh this year.
The Jerwood Applied Arts Prize show at the Museum of Scotland, and art shows at Collective Gallery, Stills and Embassy Gallery.

The People's Story, a socialist museum about Edinburgh. Did you know that in 1789 only 33 people in Edinburgh had the vote?

"The Sun", a Russian film about the last days of the Emperor Hirohito.

New York drag cabaret act Kiki and Herb.


"Ren-Sa", a mysterious piece by Darren Johnston in which the audience is taken in a blank-windowed van to a secret location and shown a video, dance and performance based on Japanese horror cycle "The Ring".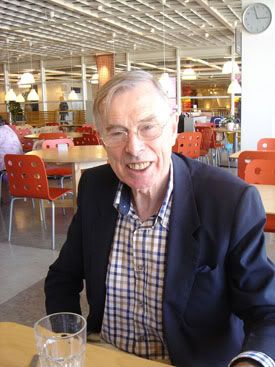 An exhibition of Cartier-Bresson photos. (Snuck in through the exit without paying.)

Mike Mills' new film "Thumbsucker".

Edinburgh Zoo.

The Botanical Gardens.

The art school.

The excellent new Scottish Poetry Library.

A very good new Japanese restaurant called Bonsai.

The Forest cafe and TotalKunst, its attached gallery.

Edinburgh Ikea (to meet my dad, who doesn't like driving into town).