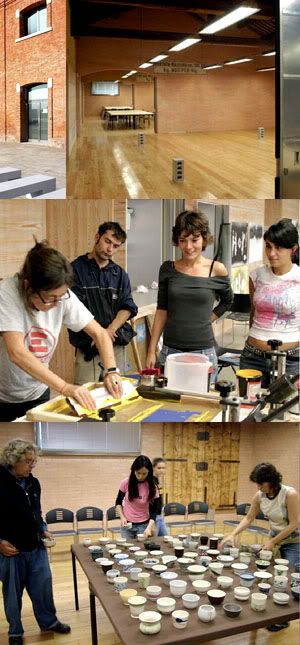 A couple of months back I bought a lottery ticket and had a wee bit of a dream about what I'd do if I won 24 million euros. (The right to dream is, of course, what you're really buying when you buy a lottery ticket, and worth every euro cent.) After going through all the stuff I could do with the money (get a house built in Tokyo by Atelier Bow Wow, give it to charity, get my teeth fixed) I decided that "actually, I wouldn't mind starting my own art college, a bit like Fabrica, Benetton's college outside Venice. That would be fun."

Well, I'm pleased to say that, although I don't (yet) own Fabrica, I will be participating later this month (September 29th to October 2nd) as a guest teacher at the Teach Me Festival in Venice, organized jointly by Fabrica and Universita Iuav di Venezia. The workshops are held in some converted warehouses called Magazzino 7. The theme of the festival is Stories, and my workshop will be about the narrative qualities of the sounds produced by objects. I think the workshop is open only to students of the two art schools, but I'll be blogging the experience here and posting some of the results of our explorations. I'm very happy to be invited to this festival. I had a great time at Future University in Hokkaido earlier this year pursuing similar researches with the students there (see my little movie Five Seconds of FUN for some of the results). Really, who needs to win the lottery when you can travel and work with people on art and communication?


Tokyo Notes: Jean Snow seems to have landed some kind of job with Japan Times, Digiki's money is running out and he needs a job, but he's made an excellent new Polypunk podcast for us to listen to, the Shobus Tour is coming to an end, and Yuki is having a few problems with ghosts.