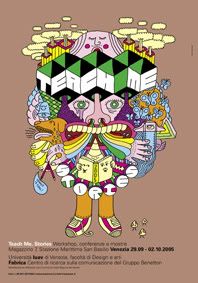 Tomorrow I fly to Venice for a week exploring the narrative qualities of the sounds made by objects at the Teach Me conference. I'll be back in Italy to perform the first-ever Momus concerts in that country (amazing but true) a month later, with shows scheduled in Venice (Risonanze, 4th November, possibly at Teatro Fondamenta Nuove di Venezia) and at Teatro Juvarra in Turin on Tuesday November 8th. More details and confirmations later.


I'm also in the early stages of talking to Rusty Santos (who's worked with Animal Collective, Black Dice and Eye Yamataka and runs UUnited Acoustic Recordings, a record label associated with United Bamboo) about him flying out for a couple of weeks from New York to Berlin in November to work on new Momus material for release in 2006 on the album presently codenamed "The Shepherd". I'll be in New York for a couple of months next year as well, so work on the record can continue then.

Some more stuff I want to note: Peres Projects, one of the most interesting galleries on LA's Chung King Road, opens a Berlin branch this week (a huge warehouse in Kreuzberg) with a show by Terence Koh, also known as Asianpunkboy. His website is worth a look; lots of flash stuff with well-chosen music. Also, I'm indebted to Zach Mercer for telling me about avant-enka singer Mikami Kan. In my mind he's some weird combination of Misora Hibari, Derek Bailey and Leadbelly, but I haven't heard a single peep of his sound yet.