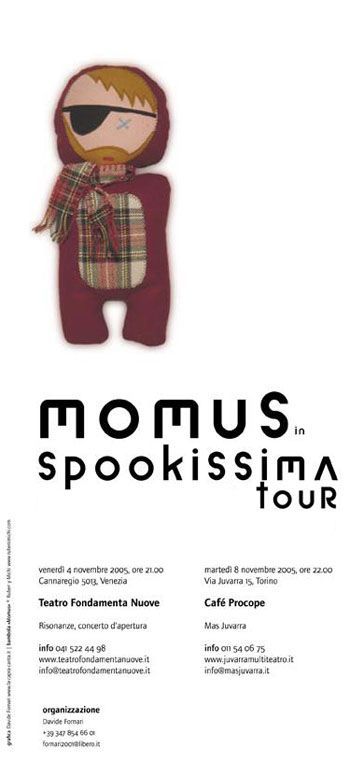 Reports of the demise of my music career, in the form of yesterday's Wired News piece Star blogger, minor musician, have been greatly exaggerated. Today I fly to Italy for a two-date mini-tour. These will be my first Italian concerts ever, amazingly enough. The first one, this Friday in Venice, is already sold out. Here's how Italian music magazine L'Enoteca reports it (the translation idiosyncracies are all my own):

"Momus. Enough with words, already. He's someone of whom [rock critic?] Celentano never would ask "Is it slow or is it rock?" because Momus is the Pentagram and the Logos. Mister quotation, mister general culture, mister curiosity, mister 360° photography, mister folktronica, mister open book. Momus returns to Venice (he was here at the end of September for Teach Me and an inspection of the campus of Cittadellarte, the very famous Piedmontese Foundation which is still at the suckling stage). On Friday 4th November, this time, he will exhibit his live show for the first time in Italy. The location will be the evocative Teatro delle Fondamenta 9, in front of Saint Michele, facing the open lagoon and Murano. A gale of fresh air is anticipated: it's best to wrap up well, but when we have to confront nature, don't feel sorry for us. Nick Currie, the manorchestra, will also be taking his cultured, coltish loungeries to Turin for Rettilario (a festival with a cooling program: think Matt "Record of the Year" Elliott), on Thursday 8th November: here are the details to post up on your blog, if you like (even if brothers Enzo and Suzuki listen to soul). For once, tough shit, Bologna and Rome (said with sympathy, naturally)!

"The small doll-Momus is the work of Ruben Y Michi, two optimal Madrid designers, absolutely pop: gobble up their website with your eyes, if only for the illustrations of the equipment they use to do their job...

"Thanks to Filippo for introducing me to Momusworld, and to Davide, who's flattened himself organizing the event: it deserves its sold out sign (in fact, two) and more. See you in the osteria beforehand!"

Friday 4 November 2005, 9.00pm
Teatro Fondamenta Nuove
Risonanze
Cannaregio 5013, Venezia
Info 041 5224498
info@teatrofondamentanuove.it
Buy ticket online

Tuesday 8 November 2005, 10.30pm
Café Procope
Rettilario inside
Via Juvarra 15, Torino
Info 011 54 06 75
info@masjuvarra.it
Tickets sold at Teatro Juvarra, Via Juvarra 15, Monday to Saturday, 3.00pm – 7.00pm.