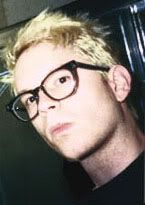 After the Berlin sessions with Rusty Santos, I've continued recording my 2006 album -- now entitled Ocky Milk -- here in Osaka. I've just finished a number called "Count Ossie In China" which details the adventures of the reggae pioneer in the orient. And since this is the third installment in the "Stories of O" trilogy (Oskar-Otto-Ocky), and because he's a sound genius, I've got faithful collaborator John Talaga working on the tracks. I couldn't be more delighted with the results. This time I've asked him to "take the solos" and do some kind of King Tubby dubby thing in them, cos the album is somewhat Jamaican (if Jamaica were in Tibet). Well, Fashion Flesh has just finished the first song, cutting a subterranean cave system into "Permagasm". I love it!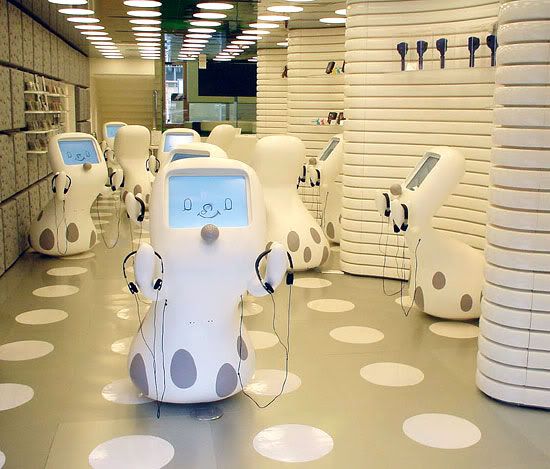 With collaborators of the calibre of Santos and Talaga I don't really need to go shopping for sounds. But I'm heading to Kyoto today to visit this amazing place that I read about on Roddy Schrock's blog. What you see above is Oto Kinoko (literally "Sound Mushroom"). It's a shop where you can buy individual sounds. Oto Kinoko is the dreamchild of Kazumichi Fujiwara, who used to run the Sound Museum on cult Japanese kids' show Ugo Ugo Lhuga. I appeared on the show back in 1993 as "Sampler-San the sampler man", demonstrating how to collect sounds with a video camera and turn them into music in an Akai sampler. The brilliant Toshio Iwai was involved in Ugo Ugo Lhuga, and I believe he's involved in Oto Kinoko too.

Fujiwara says his sounds have been collected all over the world: you can download from his friendly sound machines (a mixture of box-robots and marshmallowscopes, he calls them) the sound of "wind, animal farts, the blinking of frogs, insects fucking, etc". You can enjoy them, buy them, and take them home. I have no idea how much they cost, or quite how you take them home (I'm assuming you leave the store with a CD). I'll report more in the comments section later when I've actually visited Oto Kinoko. But I just want to say "Isn't this completely great?" Only in Japan...