Although for me being a songwriter, a journalist or a performance artist are all pretty much variants on the same basic activity -- storytelling -- they do involve working with different sets of people. They also involve different possibilities. For instance, in songs you have an opportunity to connect emotionally in quite a direct fashion with a lot of people, whereas in the art world (and it's in the art world that I'll be for the next three months, doing my unreliable tour guide act at the Whitney Biennial) you have the opportunity to be more free, original and experimental.

Last night the Whitney had its Biennial Preview Reception (the Opening Reception is tonight). It was my first chance to see the work I'll be making up stories about, the rooms I'll be working in for the next three months. It was also a chance to spot some stars of the art and music worlds. I'll certainly have more to say about the Biennial itself, but today I thought I'd just do a glitz thing about who was there last night.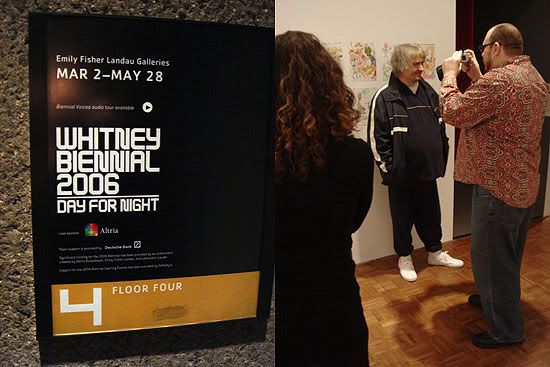 DJ Spooky: I spent more time with Paul D. Miller, aka DJ Spooky that subliminal kid, than anyone else. We both seemed to be there alone, so we decided to swing through the galleries together... or should I say "play the building like a giant record"? That's what Spooky intends to do when he DJs at the Guggenheim on (I think) March 10th, a fact he was very keen to impart to everyone we met. Now, I will admit that I've mocked Spooky online before for being "the world's most pretentious man", and there's no way around it, he is, easily beating me at my own game. The man talks like a book, and not just any book, a retro-1980s title from the semiotexte series. But it has to be said that he's very charming with it. I've decided that I like him very much.

Sonic Youth: Spooky also knows everybody on the New York art-music scene, so it wasn't long before we were in a huddle with Thurston and Kim. I smiled shyly (I'd never met them before) and let Paul do the talking. Thurston is very tall indeed, rather stooped and donnish in thick-rimmed glasses. Sonic Youth are down to a four-piece. The conversation was about what studios they'd been using recently. Ha, musicians!


Cecily Brown: Spooky introduced me to this British painter who's been in New York since 1996, and we mostly just talked about accents, and my tour guide schtick. But somewhere in the conversation we clicked. I'm not sure what it was, maybe she's just super-friendly, but the click was almost audible. Then she was gone. Later I found out that she's the daughter of one of Britain's most famous 20th century art critics, the late David Sylvester (why isn't she called Cecily Sylvester, then? Too much of a tongue-twister?), who famously duelled with John Berger over a theme close to Click Opera's heart, individualism-collectivism. Sylvester championed the individualism of Matisse and the American abstract expressionists, whereas Berger championed socialist realist artists and committed conceptualists. I'm firmly in the Berger camp in my attitudes and work, and Cecily is, unsurprisingly, in her father's: her work (it used to be about sex, but now it's more about landscape) is "painterly" and "expressive".

Others spotted: David Byrne was there, dramatic in a long white coat (he looks more and more like David Lynch's skinny younger brother). I didn't speak to him, but I wish I had, because we have mutual friends, and I like his journal a lot. Daniel Johnston posed serenely in front of his drawings, wearing a very clean tracksuit and white socks, his forward-teased hair making him look a bit like Paul Weller's pervy uncle. Kenneth Anger looked like a walking, talking deathmask of Marlon Brando. Klaus Biesenbach ignored me as he always does, despite the fact that I'm probably the only Berlin-based artist in this year's Biennial, and we've been introduced several times. (He's currently showing Wolfgang Tillmans at PS1.) Not many people seemed to know me as Momus, but one girl shouted out "I love 20 Vodka Jellies!" as she passed, ignoring Thurston and Kim. Oh, and I finally met a longstanding online sparring partner, Nitsuh Ebebe of Pitchfork (Nabisco is his online moniker), with whom I've recently crossed swords over the legacy of Betty Friedan and Bush's Middle East plans. I'm hoping we can do dinner soon, because our differences are very small ones.

Impressive though it was (it's a huge show, spread out over three floors), nothing in the Biennial touched me quite like the wonderful show currently on at the Drawing Center on Wooster Street in SoHo. Joëlle Tuerlinckx is a Belgian artist who works with the space of galleries, measuring them, controlling the light, making little peepholes and pockets between one room and another. Something about the way Tuerlinckx restricts her formal vocabulary to very limited shapes, yet uses so many techniques (little video projectors showing chalk lines being crumbled into paper, projected onto paper, partly-erased used car ads, vitrined letters and faxes, political stuff about Iraq, all displayed flat, on the wall, or in models) really appealed to me. Perhaps I'm incurably European.