Scotland reels and staggers. Earlier this month we lost our greatest poet, now it is the turn of our greatest artist, Ian Hamilton Finlay. As a tribute, I here reproduce in its entirety the essay I wrote about Finlay for Index magazine. It appeared, much cut, in their final edition, December 2005. My visit to Finlay's garden at Little Sparta last August was an aesthetic revelation, one of the high points of the year for me. The garden has undoubtedly influenced the pastoral tone of some of the songs on my Ocky Milk album, through which Finlayesque flutes -- and Finlayesque classicism, irony and otherness -- play.





End of the World: Little Sparta by Momus

It's 2003 and I'm in Paris, at a Dior after-party. Elton John is there, and Karl Lagerfeld. I'm sitting next to gallerist Jay Jopling, but we're not getting on very well. He's a bit drunk. He boasts about how he's bought some work by Chiho Aoshima, but fails to pronounce her name correctly, and doesn't seem to appreciate my correction. After telling us how great his wife and Elton John are, and how he could make any one of us an art star if we have just one good idea, Jopling turns to my friend Phiiliip and tells him he's not good-looking enough to be a model. After that, things go rapidly downhill. Jopling pronounces our conversation "depressing" and retreats to the bar. In the course of a ten minute encounter we've only agreed on one thing: that Ian Hamilton Finlay is a genius.

*

I'm leafing through a notebook of Finlay's scribblings from the 60s. It's called "Domestic Pensees". It's great stuff, what the Japanese call zuihitsu, random but pointed jottings. One note reads: "People nowadays bow to nothing but will shrug at almost anything."

*

"It's all a bit Pseud's Corner to me," says my cynical step-father, sitting in an Edinburgh New Town kitchen with views across Fettes College to the hills of Fife. "Finlay wouldn't have been able to make his garden at all if he hadn't married a rich wife. She does the work, but he gets the credit."

*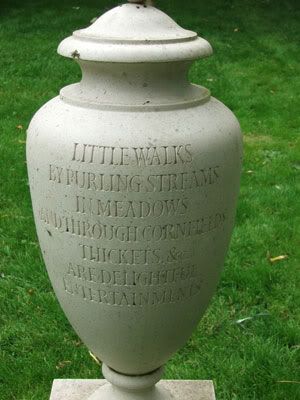 I'm at the Botanical Gardens, Edinburgh. There's a show celebrating Ian Hamilton Finlay's 80th birthday at Inverleith House. It consists of sentences appliquéd to the walls of the gallery, phrases like "Certain gardens are described as retreats when they are really attacks". It's the most minimal show they've ever had at the gallery, until you suddenly realize that the Botanical Gardens themselves are rushing into each room through the windows. Finlay's texts, in big green and blue sentences, invite in the sky and the trees and even the view of Edinburgh's old town, balanced on the horizon like vertebrae on a spinal cord. The show is huge!

*
Ian Hamilton Finlay, Scottish concrete poet and visual artist, was born in 1925, in Nassau. The ArtFacts website, with its (slightly absurd) artist ranking system based on exhibitions, currently has him pegged as 749th most important artist in their database, down from 237 five years ago. But the downward curve is slowing; perhaps the three simultaneous exhibitions marking his 80th birthday will pull it back towards a healthy incline.

*

Little Sparta, the Hellenised garden which is Ian Hamilton Finlay's greatest work of art as well as the place he lives, lies twenty miles southwest of Edinburgh, in the foothills of the low and long mountain range called The Pentlands. Finlay has lived here since 1966. You approach—as I did this August with my friends Neill and Hisae—by taking the A702 to Dolphinton and turning west to Dunsyre. A mile west of Dunsyre, you'll see a cattleproofed, gated track leading up to a cluster of houses and sheds set in low trees.

*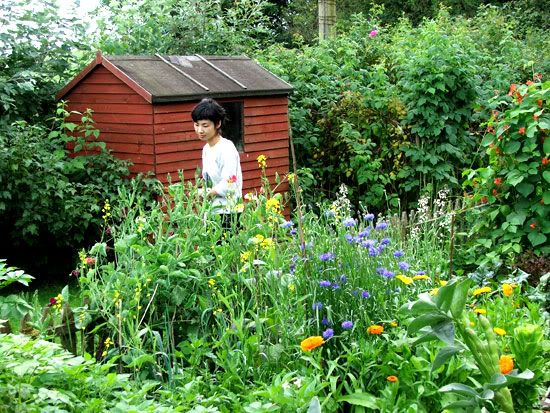 We park our dark blue Fiat by a dense pine forest. Cars line this stretch of road nose-to-tail. A woman riding a buggy in the dairy farm next door gazes with exasperation, as if to say "Not more culture vultures from the city!" As we swing open the cattle gate a Volvo passes us driven by a grey-haired woman. Finlay's wife? At the top of the path there's more privileged traffic: a soft-topped Porsche with German license plates sits on the grass, next to the gate inscribed to "Jean-Jacques Rousseau, citoyen de Geneve". Some high-powered German museum curator planning a big retrospective? Who knows how long Finlay will live, after all; he's 80, and he's had three strokes.

*

Somehow, I get enchanted away from my companions quite quickly. The place speaks to me immediately. It's a labyrinth, surprisingly easy to get lost in. Tiny winding pathways inveigle you through green glooms to sombre neoclassical benches inscribed with playful inscriptions in the manner of the Silver Age Latins, or 1960s concrete poetry. "Thanatos, our stones summon your moss," reads one weathered stone. "Bring back the birch!" jokes another, subverting into pastoral propaganda the slogan of fuddy duddy disciplinarians.

*

Often you want to share your peak experiences, but here, somehow, I want to be alone with the contemplative experiences the artist has designed for me. His ponds, his glades, his groves, his thoughts, his jokes, his shrubbed inclines, his stile, his heathery upland with its monumental slabs inscribed with a quotation from Saint-Just: "The present order is the disorder of the future". And here are his follies, his shepherd's hut, his greenhouse, his three beehives marked "Bountiful", "Sweet Promise" and "Golden Gain".

*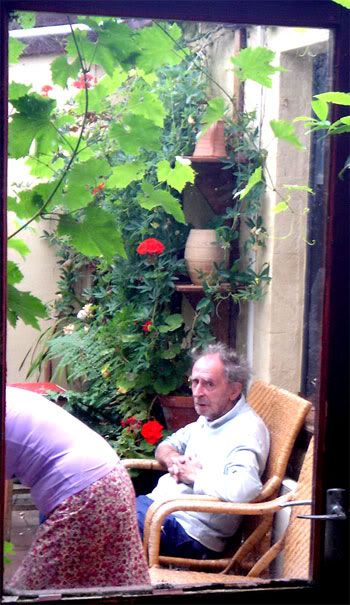 This garden is the most beautiful thing I've seen for ages. And at the end of my wander, there he is, sitting in a flower-heavy summerhouse with two women; the artist, the domestic god of this place, Ian Hamilton Finlay himself. Frail, bushy-eyebrowed, slightly anxious as he catches sight of me photographing him from the shrubbery (I can't resist), but above all serene, an artist secure in the knowledge that, although he may be temporary, his monuments will be... well, semi-permanent.

*

We eat an early supper in a village pub full of straw folk dolls resembling Shinto artefacts or props from cult horror film "The Wicker Man". As we drive back towards Edinburgh I reflect on the satisfying tension in Finlay's work between violence and serenity. He returns again and again to the French Revolution, with its dramatic contrasts of chaos and order, Romanticism and Classicism. But there's a closer contrast in the form of the city we're now approaching, a city which pits its teeming, dense, populist, medieval Old Town on the Royal Mile against its orderly, neo-classical Georgian New Town, north of Princes Street. Edinburgh, my hometown, a weird and beautiful volcanic fantasia, the city which inspired the tale of Jeckyll and Hyde, feels very Ian Hamilton Finlay to me now. He may have named Little Sparta in ironic counterpoint to the "Athens of the North", but the city's Hellenic monumentality, its turbulent south and neoclassical north, mirror Finlay's work uncannily.

*

It's September and I'm back in Berlin, the city I live in. French-German government arts channel Arte is running the first of a series of Saturday evening shows about artist-gardeners. Atelier Alias are three smug thirtysomethings from Cologne. The show's director manages to make them look smug, anyway, as they push supermarket trolleys around to make a "mobile garden", construct sub-Tony Cragg sculptures with trash fished out of the river Spree, pose as geishas in an abandoned railway cutting, or pay tribute to the ruins of the DDR by constructing a small concrete folly then gazing at it lovingly from a tent in Leipzig. This banal and diluted "guerilla gardening" is, of course, subsidized by the German government.

*

The Atelier Alias whippersnappers have it easy: far from receiving money from the British government, Ian Hamilton Finlay has fought it. In 1983 he waged "The Battle of Little Sparta" with Strathclyde Regional Council when they decided to withdraw rates relief from his grove because—ironically enough—it was not supported by the Scottish Arts Council, and was also not a religious building. Finlay disputed that, seeing his garden as a temple. As for the Arts Council, he's always been somewhat disdainful of the funding body: "When I hear the words 'Arts Council' I reach for my water-pistol."

*

"Yesterday's battles are won the day after tomorrow," runs a Finlay aphorism. On February 3rd, 1983, Finlay and his friends (the "Saint-Just Vigilantes") successfully resisted the attempts of the Sherriff's Officer to seize sculptures from his garden, but next time they weren't so lucky. The Sherriff took several works and has kept them to this day. Finlay marked the raid with a bronze plaque inscribed with a line from Virgil's eighth Eclogue: "Flute, begin with me Arcadian notes". The "flute" depicted is a machine gun.

*

Twenty years later, feted and famous, Ian Hamilton Finlay has won the Battle of Little Sparta. In the words of another of his aphorisms, "May the Gods put snow in his carpet slippers."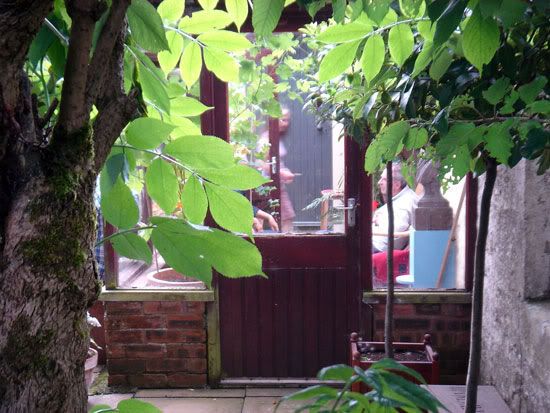 Also highly recommended is my friend Drew Milne's excellent essay about Ian Hamilton Finlay, Adorno's Hut.