"I'd be just as happy to show my photographs in a community center as at the Whitney," said Zoe Strauss at our panel discussion last night. "Actually, that's a lie. I'm fucking delighted they're in the Whitney." Zoe, who seemed like a very real person, got the best laugh of her panel with that. The best laugh of the next panel came when Jutta Koether, discussing a completely unreal painter called Lee Williams with her fictional gallerist Reena Spaulings (played in this instance by John Kelsey and Emily Sundblad) listed three painters called Lee (one of them was Lee Krasner) and said that Williams was "the fourth Lee". Just one person in the audience was clued-in enough to find that funny, but he found it very funny indeed.

I won't say much about my own panel; the most interesting thing about it was Chrissie Iles talking about the themes that she and Philippe Vergne noticed emerging from their hundreds of studio visits as they selected artists for the Biennial. There were, apparently, a lot of people doing porn-related work "but not really able to explain why", and there was a lot of "somewhat diluted psychedelia".


But what really fascinated me was the contrast between the second and third panels. I'd been haunted by a comment conservative Henry Perri made on Click Opera a couple of weeks ago. Quoting Philippe Vergne's statement that "culture is like a gene pool: the more diverse, the better," Perri asked us to "notice how, even while using the "umbrella of inclusion," the curators unsurprisingly failed to include the conservative American viewpoint into their show."

Now, I deplore the conservative American viewpoint, and I don't think it has any place in art. There are very few openly conservative artists (John Currin may be one). It's part of art's function to oppose power (and, some would say, to play footsy with the market, playing both hard- and easy-to-get, resisting money only to capitulate to it when the price is right). I'm happy for something like the Whitney Biennial to be "oppositional", but I do think it's a bit dodgy mixing Darwin with Marx in your rhetoric. Talk of a "diverse genepool" is Darwinian, whereas talk of post-America, dark times, the death of the Enlightenment and so on is, to use very reductive shorthand, Marxist. Of course, Darwin can be reconciled with a vaguely Marxian rhetoric by the idea of "inclusion", which maps the "gene pool" to the "workers of the world". But, as Perri pointed out, not everybody is included, because the powerful and the conservative are silenced. They have their own channels of expression, after all; TV channels, for instance.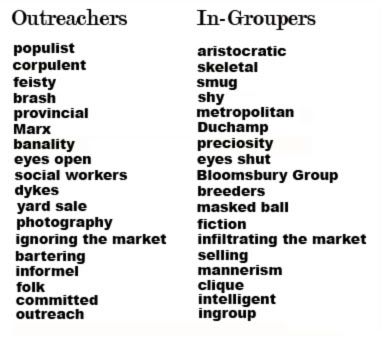 But, given that we artists are all opposed to Bush and to conservatism and even, rather more ambivalently, to "the market", are we therefore all the same? Not at all. We may all be presenting ourselves as "subversive", but we're subverting in markedly different ways. The difference in tone between the second and third panels last night was so gob-smacking that I couldn't help wondering if some new kind of left-right split hadn't inscribed itself into the leftish consensus, in the manner of Freud's "narcissism of minor differences". Tone and texture, mannerism and body type, gesture, outlook and focus were all fascinatingly different (see Figure 1).

Panel 2 was all women; two documentary film-makers, Lori Cheatle and Daisy Wright, talked about their anti-corporate film This Land is Your Land. (Interestingly enough, when we perform our cabaret at Tonic on May 20th, Toog and Flo intend to do a cover version of the Woody Guthrie song this film takes its title from, perhaps the closest thing America has to an anthem of socialism.) Zoe Strauss told us how she'd converted the pillars under the I-95 highway in Philadelphia into a people's art gallery, selling her photos there for $5 apiece. And Carolina Caycedo told us about a barter scheme she's devised, where she exchanges services with people. It mostly seemed to involve massage, and take place in a van she's decorated with rainbow blankets. When I spoke to Carolina after the panel, I told her that designers Abake had a similar exchange scheme involving a stall at the Columbia Road flower market in London.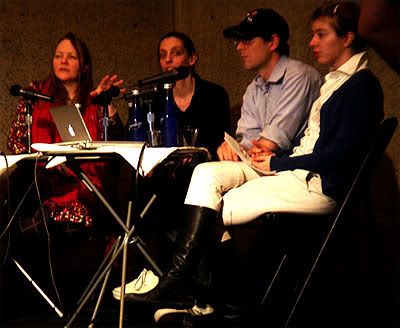 If Panel 2 smacked of social outreach, Panel 3 was all about ingroups. Jutta Koether and "Reena Spaulings" hit the stage wearing shy, slightly smug smiles and (in Emily's case) what looked like riding britches and boots. Like slightly naughty, precocious schoolchildren who'd decided to concoct a big, clever lie for the headmistress, they proceeded to tell us about fictional painter Lee Williams. Lee, like Reena, is a mask, a distributed personality, but mostly seems to be a side project for the skeletal and aristocratic Jutta, who looks like a cross between Virginia Woolf and Helene Weigel. Here, then, was the part of the biennial which is all about masks and cabaret. It's a part as close to my heart as the radical, responsible, oppositional, socialist part, and at a stretch it can use the same rhetorics of justification: this is "subversion", it's defying the market (because how do you buy art made by a fictional person?), it's collective. Yet it's turned inward, a private game played by metropolitan hipsters, for metropolitan hipsters. The three panellists of Panel 3 seemed evasive; rather than playing to the crowd or responding directly to Chrissie's questions, they glanced conspiratorially at each other, like twins or triplets delighted by their own in-jokes, their clever private games. This might have been fascinating if the contrast with the previous panel hadn't made it slightly grotesque.

But I couldn't help wondering which of these panels would come first to the Biennial's excluded -- and yet omni-present -- element, George W. Bush. Imagine the art world as a game of snakes and ladders, with Bush at both the bottom and the top. Imagine the strategy of social outreach as the snakes and the strategy of ingroups and roleplays as the ladders. They both lead to conservatism, because the more you talk to, and include, "the common people", the more likely it is you'll reach the people who actually voted for Bush. And the more you cut yourself off from the world and act out power games in an aristocratic masked ball, the more you resemble the decadent cliques currently running America. Bush, the excluded element in this leftish biennial, waits right at the edge of the frame.

By the way, today the Unreliable Tour Guide gets his own article in the New York Times. The biennial, unexplained, by Jeff McIntyre, juxtaposes the catalogue's description of some of the artworks on display with my unreliable narrations. The Associated Press piece about me the other day had me wearing suspenders; this one has me in a kimono. It's amazing that neither reporter noticed that I am, in fact, doing this show completely naked, in an imperial gesture of solidarity with all people, everywhere.