After my performance at the Rubin Museum last night I was joined by Mai Ueda and DJ Spooky That Subliminal Kid, "the world's most pretentious man"©. Here you see us reading the Mai Ueda Times, a publication written entirely by and about Mai and published by Celine to promote the limited edition bag Mai designed for them, a form based on the standard cheap plastic carrier bag, but made of baby kangaroo hide dipped in gold and silver and treated with a special silicone process.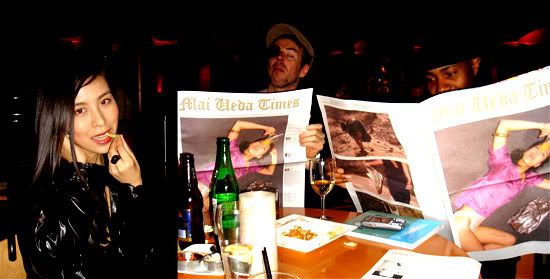 We all went for dinner with Andrew Maerkle of Art Asia Pacific magazine (who'd organized the Rubin event) at a Japanese pasta joint called Basta Pasta (blacky squid ink pasta, yum!). Spooky of course dominated the conversation with his dazzling name-dropping and breathtaking array of projects (he's recording music in Antarctica next, flying out in a helicopter, has recently spliced together a box set of rare Trojan dub plates, has made an orchestral piece, and so on). On the L train home I read a passage in Mai's "newspaper" dealing with our exhibition last year which moved me. I reproduce it here in full:

"I did a performance with Momus in New York at the gallery LFL in summer 2005. 3 weeks of improvisation of words, sounds and situation. Momus was creating stories, my voice and me were supposed to be objects in his story that he makes in people's head as landscape. It was challenging to make something out of nothing non stop everyday in a front of people or no people, spending so much time with somebody interesting and talented who is not dating me. Last day was a live house performance, at Tonic in downtown. I saw Momus playing his own songs on stage. It was the first time I saw him perform, he is very good. I cried in my bed at night and couldn't sleep."

That reminded me of Kahimi telling me she'd cried when recording my lyrics for her song "Tiny King Kong":

"I leaned too hard upon my microscope
The barrel buckled and the slide-tray broke
In tiny pain my tiny world caved in
I'll never see my tiny friend again..."

I haven't seen Kahimi in a few years (I had a chance to see her perform with Otomo Yoshihide's New Jazz Ensemble in Kyoto in February, but I was over on the Sea of Japan that weekend, celebrating my birthday at onsen resort Kinosaki), but it occurred to me that Mai is to my 00s what Kahimi Karie was to my 90s. Kahimi and Mai are both beautiful and generous women, they both exude a magnetic superstar charisma, Kahimi in the world of pop, Mai in the world of art, fashion and performance. With both of them I managed to work on a "not-dating" basis, and somehow that only increased our respect for, and connection to, each other. I think the best word for this kind of relationship is "recognition". We both recognize in the other something we lack, want and need. Talent recognizes beauty, and beauty recognizes talent. And of course to recognize talent you must possess some yourself, and to recognize beauty you must be, in some hidden way, beautiful. Good morning, world!