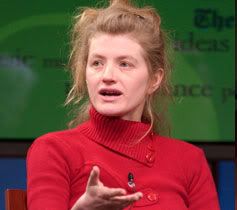 Artist: Tamy Ben-Tor.
Age: 30.
City: New York.
College: Columbia MFA program.
Background: Experimental theatre in Israel.
Current Style: Video cabaret.
Breakthrough video: "Women Talk About Adolf Hitler", shown at the Greater New York show at PS1, summer 2005.
First solo show: "Exploration in the domain of Idiocy" at Zach Feuer (also my gallery) New York, November 2005 - January 2006.
Jerry Saltz's take: "A hair-raising fusion of Cindy Sherman, Kara Walker, Alex Bag, Kafka, the Yiddish theater, and Greek tragedy."
Other apt comparisons: Vice magazine, The Onion, mid-period Momus, Serge Gainsbourg circa "Rock Around the Bunker", comedian Sarah Silverman.

Characters played by Tamy Ben-Tor (descriptions by Saltz):

Exotica: A bizarre Leni Riefenstahl–like grande dame in a gold gown. Entering with an ersatz Sufi dance, she rhapsodizes about loving herself and talks about helping the poor in Marrakech and India. She is "white mischief" personified, the pretentious seeker who "discovers herself" in faraway lands but who is perpetually unaware of the havoc she wreaks.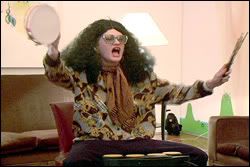 The Rat: A harrowing Nazi-youth type who madly beats tiny tambourines against her thighs and rants in gutter German about America, capitalism, and cappuccino. A noxious banshee and wounded animal, she yelps, "America, count your days. We, the intellectual, civilized, enlightened Europeans protest."

Scandinavian Academic: Babbles about "the white man's obsession with the threat of the darker man" and the supercilious American who links shopping with greatness.

Wild-Haired Suburban Rapper: Repeatedly intones, "How can you deny the Holocaust?" after which she mimics racial stereotypes.

Batty "gender studies" writer: Prattles about how Hitler "didn't like dentists" and was "ashamed of his knees"

Southern author of "Healing Hitler": Talks about "coming to terms with evil".

Distraught Eastern European: Fumes "Hitler makes me so ill I refuse to even talk about him".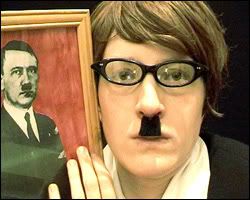 Ditzy Mitzi: Giggles that she likes his little mustache.

Morose Girl: Laments "my parents never told me about Hitler."

Prim Wraith: Dons a Hitler mustache and caresses a portrait of the führer.

Russian Prostitute: Utters malicious slurs about Arabs.

Middle Eastern contractor: Bitterly complains about what he has to do to earn money.

Source of these cameos: The Jerry Saltz pieces here.


Media files: Slate offers a video clip of Ben-Tor as Alejandra, a woman who can't love other people unless she loves herself.

And here's a radio file of Electroyiddish, a cabaret performed as part of the PS1 Greater New York show.

Highlight quote from cabaret: "This performance is dedicated to peace. If Jews and Nazis lived together, what a world it could be."

Reminder: Momus performs four songs at PS1 this evening between 5pm and 6pm as part of cabaret-and-coloring event Coloring Book. Momus will be joined on stage by Mai Ueda.