Diamond District
: My first full day in New York turns out to be an Asian-flavoured one, as my two years here also were. Although I love New York, Asian culture is where I "locate value". I love New York
insofar as it's an Asian-flavoured town
. It's nice to hear the jewelry dealers, formally dressed, chatter away in Yiddish up on 47th Street, but I would never go into their shops. One day I want someone to explain to me what they're all about, these shops and these people. I know Andy Warhol loved going in there with Liz Taylor to look at diamonds, but I've never really seen the appeal of jewelry. I like the severe garb of the dealers, though, and the sense of mental energy you feel in their presence.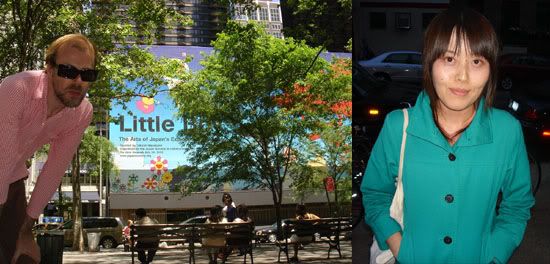 5th Avenue
: 5th Avenue just has this extraordinary New York light, so high-contrast it looks like a hyper-realist painting. It must be the combination of intense sunshine and the reflected twisty highlights from surrounding glassy buildings in their canyons that produces the harsh, brittle light. That and the constant yellow bounce from the passing taxi cabs. When this intense, focused light hits the 5th Avenue crowd with their flabby bodies, baggy shorts, poorly-chosen sunglasses and nasty baseball caps, the whole scene looks like a satirical plexiglass sculpture by
Duane Hanson
. The same Hanson types waddle around druggist Duane Reade buying vitamin tablets. Duane Reade is, for me personally, a cautionary tale about graphic design. Here you learn how
not to
combine colours, type faces, materials. Why that purple? Why that typeface? Whatever design decisions lie behind the clutter, the results are wretchedly ugly. Luckily New York provides an antidote in the form of the hectic sidewalks of Chinese Grand Street, where a splendid array of natural produce (fish, medicinal herbs, fruits, spices) is tumbled into boxes and spills out over the pavement. It's an aesthetic delight, and contains more vitamins than all those pills.
Kinokuniya, Rockefeller Center
: It's telling that my first port of call is a Japanese bookstore. I flip through the latest magazines. Studio Voice has a manga special, Switch has a guide to Shimokitazawa. It's ironic that I'm standing here in New York, flipping through pictures of Tokyo, wishing I was there instead... but entirely typical. And it's to New York's credit that this mind-travel is something it allows and affords. I couldn't do this in Berlin. No store in Berlin ships in Switch and Studio Voice. They wouldn't sell a single copy. Then again, I don't expect to see anyone in New York as visually inspiring as the characters snapped in the new edition of Tune magazine. These people rock my world and make a fan of me. They're wildly individualistic... and Japanese.
Japan Society
: I walk down to see the exhibition at the Japan Society,
Little Boy: the arts of Japan's exploding subculture
. It's a deeply disappointing show: there's none of the excitement that accompanied 2001's
Superflat
show at LA MoCA. Takashi Murakami seems to have contented himself with making a sociological tour of all the cliches of Japanese subculture: giant robots, Hello Kitty, cute perverse little girls and the
etchi otaku
who pursue them. He's vitrined lots of little plastic toys, and sprinkled his Kaikai Kiki artists around. There's no Groovisions installation to leaven the Hello Kitty tedium, and even Chiho Aoshima's work looks better in magazines than on a gallery wall, where it's painfully obvious that it's just a scaled-up computer printout. Elderly Jewish people are guided round by elderly Jewish ladies. I like how seriously they talk about this work, but none of this is cutting edge. It might be new to these American senior citizens, but it's terribly stale to me. I leave feeling that Murakami, once a distinctive voice, has blended in with, or expanded to fit, his huge chosen subject matter (Japanese post-war
otaku
culture) so completely that he's become invisible. He's huge yet tiny, as bland and irrefutable as the sky.

Mirko
:
Mirko Ilic
is a designer, and my friend. I pop up to see him in his office above Milton Glaser's studio, the studio that produced the famous "I (heart) New York" logo. I (heart) Mirko, who's been looking after fifty boxes of my books and records for two years now out of the goodness of his heart. He's a radical, a left-wing designer whose commitment is expressed visually. He shows me layout sheets for a new book he's working on, an extraordinary lexicography of images. Like John Berger in
Ways of Seeing
, Mirko (with Steve Heller) takes familiar visuals and cracks them open, making a visual family tree of their antecedents. Mirko talks about the project with the same mental energy and enthusiasm I picked up from the jewelry merchants on 47th Street and the tour guides at the Japan Society. This city crackles with enthusiasm like this, and it quickly becomes infectious. If in London you quickly become a
grumpy old man
, here it's hard not to be Andy Warhol: "Wow, that's great!" And it really is.

Gallery
: I spend the afternoon at the art gallery, installing with Zach Feuer. That means that Zach climbs a ladder and strings an orange power cable down the concrete pillar I'll be leaning against as I spin my tales and Mai dances around, singing interruptions. I rig together a sound system and do the mic check stuff. Hey, come to our opening party this Saturday! It's 6pm to 8pm and the address is Zach Feuer Gallery, 530 West 24th Street, New York NY 10011 (phone 212 989 7700, e mail info@zachfeuer.com). We'll be performing all day Saturday from 1pm, then the party starts at 6. Also, I can announce that on July 15th at
Tonic
(Norfolk Street, Lower East Side) there's a Momus concert which will be the only Momus US appearance this year. Mai will also appear, and there'll be a set from Rusty Santos, who produced the last Animal Collective album and is a compelling artist in his own right. That's July 15th, about 9pm.
Old haunts
: After installing the art show I walk for miles and miles in the evening sun, to see what's still there and what's gone. I can report that Space Untitled Cafe on Greene Street seems to have got sadly cluttered, there's a new hotel sprouting up at the corner of Grand and Broadway, another on Rivington, that Chinatown is still as wonderful as it was (the block between Bowery and Christie is my favourite place in New York), there's a new art gallery on Orchard Street called Orchard (opening a show when I passed, a very cool Ginsberg-guy lurking outside with a twisted beard that hung down to his knees), the Lower East Side is now lower, easter and sider than ever, you can climb to the roof of my old building at 38 Orchard and (if you're me) remember
watching 9/11
unfolding in front of you, then pass the door of your old apartment with a tight feeling in your throat of pure nostalgia. Shizu, remember when we lived here? And rode Razor scooters everywhere? And got our clothes neatly pressed and folded at the Chinese laundry, and ate congee? In this Asian-American city...
New York Asian Film Festival
: Quite by chance I run into my old friend Junko outside Anthology Film Archives. She's queuing for returns. There's a
New York Asian Film Festival
going on, and so I join her (and her friends) to watch Katsuhito Ishii's very hilarious and excellent
Taste of Tea
. It's an absurdist, inventive and heartwarming film featuring a little girl who's followed around by a fifty-foot replica of herself, a boy who plays Go to impress the class beauty, an old man who invents ridiculous choreography moves... It's delightful, and insofar as New York loves it (the audience screams with laughter) I love New York... even if I sadly doubt that this city would be capable of
producing
such a marvellously inventive, warm and humane film.