New York is the ultimate fairy tale. By that I don't just mean that there's a strong sense of "Cinderella, you
shall
go to the ball!" about it, but also that it contains, alongside the sense of delight and possibility, the darkness and despair of a tale by the Brothers Grimm.
The delight stuff happens mostly in my creative ghetto, the streets of Chelsea. Coming out of our show, Mai and I run into Chrissie Iles and Philippe Vergne. They seem really interested in considering our show for inclusion in the next Whitney Biennial, which they're curating. Mai and I eat at a nice new Japanese cafe in Williamsburg, Supercore, then head for a party Jeffrey Deitch is throwing at his big warehouse on North 1st. Phiiliip, whose records I've released on my American Patchwork label, is performing, and I haven't seen him live for two years. And
autokrater
is there!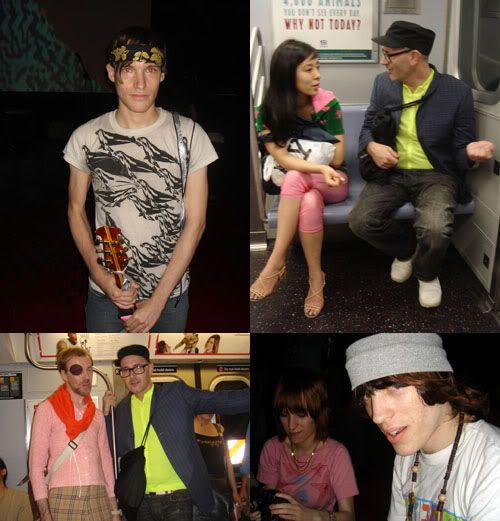 The dark side begins to intervene when I approach the door of the warehouse. A man in a paramilitary uniform runs up to me. "Are you serious?" he demands angrily. "Are you seriously going into the street with that?" Of course! I have a bottle of beer in my hand, and this is America. I'm used to Berlin, where people walk everywhere with beer. I promise, slightly sarcastically, to stay just inside the lino line which demarcates the warehouse from the street. This isn't good enough: one of the organisers runs up and says "Please, stay right inside. We don't want any trouble."
Inside there are dancers. I'm not sure if they're paid dancers, but they're gesticulating to 80s acid house with an air of exaggerated evil, as if dancing itself were an inherently satanic pastime. That's how it's seen in this city where you aren't even allowed to dance in most bars (one I used to go to was called Sway because that's all you could do). Dancing can, after all, be dangerous. There's an epicene hula dancer gyrating. Mai and I sit on the floor, our beers in front of us. Suddenly the hula hoop shoots off the dancer's body and knocks our beer over, making a big puddle on the floor. Well, that's the beer problem solved, anyway.
The party doesn't last long. One of the neighbours has complained about another evil, bicycles chained to his railings, and the police surround the place, lights flashing on their squad cars. We're shut down; I won't get to hear Phiiliip this year after all. At least, as we file out, the lights are on and the music is off. I get to talk to Larry T, Ella Christopherson (the charming and vivacious editor of Index) and Deitch himself, who promises to come to our show.
Back in Harlem, the nightmare kicks in again. I'm woken at 1.45am by the sound of gunfire. Three pistol cracks, right outside my window. No squealing tyres, no running feet, just the serious, scary sound of shots from the dark park opposite. A few minutes later one, two, three patrol cars, and an unmarked black FBI car, arrive. No sirens, just flashing lights. Nobody gets out, as far as I can see. The officers complete paperwork inside their cars. The cars leave. When I ask the security guard about it the next morning she knows nothing.
Back to Chelsea. A woman with a heavy African accent preaches on the A train. She tells us that only Christianity can save us. Islam and Judaism are misleading religions. When I get off she's stuck in the carriage door, her Bible and one arm sticking out dangerously. I free her and head for the gallery. We have a big day ahead. Deitch and the Whitney are coming down. And the New York Times has run a
review
of the show, a review which seems to say "Cinderella, you
shall
go to the ball!"