The feel of loose white cotton on a hot day is bliss, but if my
robe shenanigans
the other day were also a primitive kind of "street art", "Situationism", an "anti-racist strategy" or an "urban intervention", they would certainly have fitted into the way Kreuzberg is thinking right now. This stuff, despite roots in the 60s and 70s (in actions, happenings, performance art, identity politics) is hot and topical. But it's not all pointing in the same direction; there are rival schools of urban communication.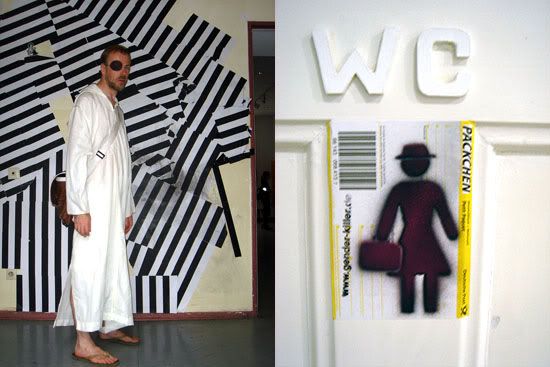 After we saw
"Moving On"
at NGBK—a show about border controls and immigration, in some ways an extension of Kunst-Werke's "Territories" show about
Israelization
—Hisae and I went to Kunstraum Kreuzberg at the Bethanien Centre to see
"Back Jump: Urban Communication"
, a huge street art show organised by Backjumps, a Berlin magazine for urban communication and aesthetics. On the way there I'd stopped to photograph some more crude and direct political graffiti,
détournements
of political posters by the SPD which made Chancellor Schroeder say things like "He who wants to fuck must remain steadfast". But oddly enough the direct satire of these campaign poster interventions (which might well be nothing more than an outpouring of
moronic cynicism
) seemed a lot less
political
than the pieces we saw in the Bethanien Centre. Could it be that to address politics in the language of politics (to call Schroeder's social policy "asozial", for instance) is less radical than to insert a kind of surreal visual poetry into urban space?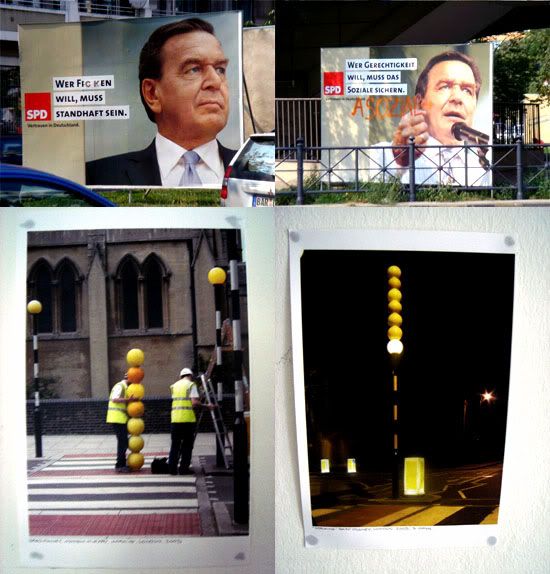 At the "Back Jump" show I particularly liked a "gender killing" toilet sign by anti-sexist group
Gender Killer
(am I gender killing when I
wear skirts
?) and a piece called "Stacking" by
Brad Downey
, an action in which yellow zebra crossing lights in London were made to cluster upwards like amoebas reproducing in the direction of the sky. The orange globes stayed in place just three days before the authorities took them down, but during those three days they added mystery and magic to the world, achieving more, for my money, than any smutty jibe at a Social Democrat.