I really adored my trip to the Venice Biennale on Sunday. Perhaps I'll talk about it more later in the week (and there's more stuff about my Venice trip in
my latest Wired column
). But one of the things I liked least was the Guerilla Girls piece in the first room at the Arsenale. The chandelier made of tampons was witty, but the jokey, ugly agitprop banners, made with the same kind of bad graphics you can see on
their website
, and telling us things like "Less than 5% of the artists in the Modern Art sections of the Met are women, but 85% of the nudes are female", seemed like relics from a long-vanished era, an era when it was a big deal to be a woman in art, and when being a woman in art meant you had to make art about being a woman in art. This drawing-attention-to-gender hardly hastens the arrival of the day when gender is "a difference that doesn't make a difference". The feminism that played the first time (1971, says
this blog
) as tragedy is playing the second as farce. Gender hardly seems like an issue in today's art world. It's not that one expects to see exactly the same numbers of men and women represented, or that one demands male nudes to "make up the numbers". It's just that everywhere you look, women are winning.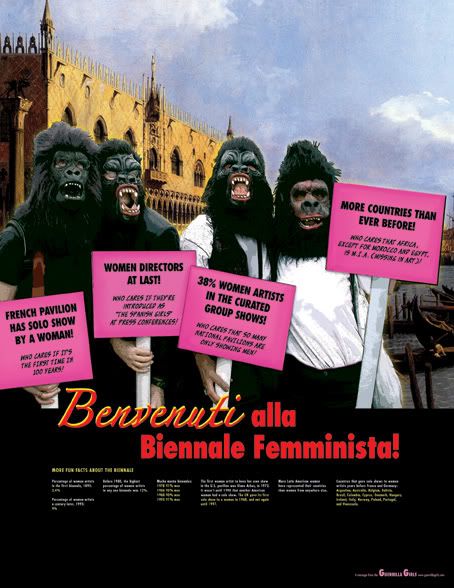 This year's Venice Biennale was curated by two women, Maria de Corral and Rosa Martinez. A Venetian woman artist, the 40 year-old Monica Bonvicini, has just won the
Preis für junge Kunst
in a
show
at Berlin's Hamburger Bahnhof. (I was personally rooting for Angela Bulloch. I normally like John Bock, another finalist, but thought his new performance, in which he gets thrown through a window made of ice, was a bit smartypants and show-offy.)
I'm delighted to announce that Noriko Shibutani's film
BAMBI♥BONE
, for which Emi Necozawa and I made a soundtrack back in 2002, has just won the Special Jury Prize at the
27th Pia Film Festival
. After showing in Tokyo, the festival travels to Nagoya, Osaka, Sendai, and Kita Kyushu. BAMBI♥BONE, shot on video, is a disturbing story of child abuse and tenderly-observed, quirky delinquency, as two eleven-year-olds run around shitamachi district Shishibone spattering each other with mud, riding bronze deer statues, and wearing polythene bags over their heads. The film received its international premiere on October 3rd at the
Vancouver International Film Festival.
On Monday the winner of the UK's
Man Booker Prize
for fiction is announced. I'm rooting for Ali Smith, who was in my creative writing class at university (we graduated with matching firsts in English the same year). I was somewhat smitten with Ali, whose talent was pretty clear even then, and sent her a number of embarrassing poems, love letters and notes. I even paid the parking tickets she used to get on her Citroen 2CV. She's the "Sweet Alison" in the song "King Solomon's Song And Mine" on my first album,
Circus Maximus
, dedicated to "all those who did and did not requite... and those who still might". Well, it turns out Ali didn't requite because, like me, she loved women. Fair enough, they are very...
winning
.