I've
spoken before
about my love for Tokyo-based architects
Atelier Bow-wow
. Yoshiharu Tsukamoto and Momoyo Kaijima have been working under that name (and its Japanese version, Atelier Wan-wan) since 1992. Whether they're making buildings,
exhibitions
or books (like 2001's influential
"Pet Architecture"
), their work keeps returning to certain themes and "keywords"; it's modest, dense, organic, somewhat haphazard, unfinished and lo-fi, made with cheap materials in unexpected corners. Here, for instance, is a lovely Atelier Bow-wow piece, made this year, a "mediapod":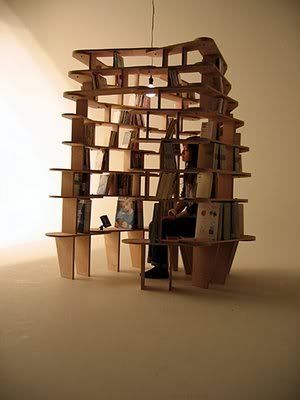 The mediapod is not only a beautiful, slightly self-mocking visual corollary for the information-mania of the modern subject—I know this is pretty much how I live—it also looks like the dense book-filled rooms used for centuries by Japanese writers and illustrators, piled to the ceiling with books and scrolls, or the cluttered
otaku
-space
Kyoichi Tsuzuki
documents in his
Tokyo Style
book. Tsuzuki traces this back to the hermetic tradition of asceticism spelled out in 13th century classic
Hojoki
, "the ten foot-square hermitage". But if this is
famine
in terms of materials, it's feast in terms of information; the aesthetic is one that revels in clutter, and finds the look of raw storage, particularly cultural storage, a friendly and reassuring one.
So it's entirely appropriate that Atelier Bow-wow were called in to style Japan's most exciting art fair, the
Yokohama Triennale
, which opened (a year later than scheduled) last month. I was at the first Yokohama Triennale, back in
September 2001
. The main thing I remember was being very impressed by John Bock's installation. The space itself, a series of white cubes in two warehouses, wasn't particularly memorable, though; the white cube is, after all, designed to be completely self-effacing, to let the art do the talking.
This time, though, as Daikanyama-based curator
Roger McDonald
says on his blog, "the ambience of the spaces is industrial, rough and exposed. I heard from one of the curators that pigeons nesting in the roof rafters remains an issue, and that the organisers had to clean away years of pigeon shit before beginning the exhibition installation". As pet-lovers, though, the Bow-wows have built the pigeons into the presentation rather than banishing them. And as
photos
on Roger's blog reveal, the metaphor this year has switched from the white cube to the packing case. Atelier Bow-wow (assisted by Workstation) have, says McDonald, "constructed an exhibition which remains very much 'under construction' and purposefully un-polished. No straight white walls have been built, and instead wooden containers have been placed at various angles within the large spaces to contain works. These containers remain un-painted, their structures exposed on the outside. There is an abundance of scaffolding around the exhibition too."
As someone who often walks past building sites thinking "It'll never look or smell as beautiful as that when it's finished", I appreciate this packing case idea a lot. (Atelier Bow-wow themselves call their aesthetic
da-me
or "no-good architecture".) One of the thrills of these big art shows is the sense of fresh ideas coming out of boxes, the idea of global trade itself, the international trade in embodied concepts. The raw chipboard and wood has a fresh, temporary smell which adds to the excitement of the art itself.
My first exposure to Atelier Bow-wow came in the 1999 exhibition
Cities on the Move
, which presented density, modesty and temporariness as specifically Asian virtues. Atelier Bow-wow have been developing these ideas since then — the Yokohama packing cases are direct descendents of the design of their contribution to the 2003 show at the Walker Art Center in Minneapolis, "How Latitude Becomes Form", where they contributed "
Pet Architecture (Architecture for Temporary Autonomous Sarai)
".
It makes sense that Atelier Bow-wow should turn two working dockside warehouses into places where visitors can feel the excitement of the fresh arrival of cultural goods. What are these vast sheds, in the end, but two huge mediapods you're welcome to come and root around in?