One of my grandmothers died when I was a baby, the other in 1996, so I won't be able to jump on the latest art trend band-wagon: the
use your granny
movement.
Everybody's doing it. Brother-sister band
The Fiery Furnaces
, for example, whose new album
Rehearsing My Choir
"is built around the vivid autobiographical narrative of Olga Sarantos, the siblings' 83-year-old grandmother," according to
The Guardian
. Sarantos, choir director at her local church in Chicago for 45 years, wasn't in the least bit surprised to be head-hunted by grandson Matthew for the project: "He's been after me for a long time. I recently retired from the church this year, and I knew that this record would be the perfect way to end my legacy."
It was his granny's "charismatic and demanding presence" that attracted Matthew. But he also wanted answers to some questions. "Where do you live, when you're older in your mind? Do you live in your past? It's very confusing. You never feel comfortable, I imagine, with what you allow yourself to feel."
Don't hang around too long asking yourself questions like that, though: grannies aren't here forever. Granny Olga had been unwell in hospital just before making the record. "She was feeling really bad and moping around the house," says Eleanor. "Then the day came when we began recording, and she pulled out some fabulous suit and put on her fancy jewellery. It picked up her spirits completely." Eleanor's voice and Olga's are balanced against each other throughout the record, one full of hope, the other (in a "husky, masculine alto" voice) witheringly realistic about disappointment.
Amazon's editorial review of the record echoes the point that there's nothing saccharine happening here: "The lyrics matter-of-factly recount our heroine's adventures from a half-century ago, and so reflect how the average person's aspirations and experiences were different enough then to seem almost alien now. But it's no period piece, no nostalgia or attempts at "authenticity" in evidence, and Mrs. Saranatos' dry, unsparing treatment on tracks like "Candymaker's Knife in My Handbag" is the furthest thing from sentimental."
Turn a couple of pages in the same newspaper and you'll find
Adrian Searle's coverage
of the newly-unveiled Turner Prize show in London. And here too an artist has recruited a granny.
Darren Almond
's
If I Had You
(see photo above) also uses music... and grandmothers: "The slightly off-key piano melody, taken from an album by Richard James (the Aphex Twin), the sound of leather-soled shoes stepping and sliding on a ballroom floor, the creaking noise of an illuminated windmill turning on Blackpool Promenade. On one screen Almond's grandmother, who honeymooned in Blackpool and hadn't returned since her husband's death, sits lost in thought. On another screen the camera follows a couple's shoes as they dance around the ballroom. High on another wall, the sails of the windmill turn in the Lancashire night, and on yet another screen water showers jerkily from a garden fountain." But this time Searle thinks that sentimentality hasn't been avoided: "Almond's problem is that he strays close to emotional manipulation, and
If I Had You
verges on the maudlin."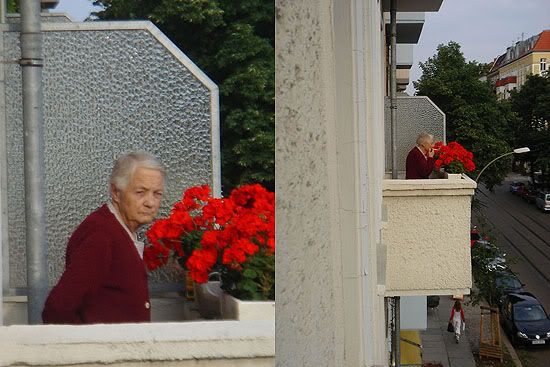 Ever-keen to embrace trends in the art world, I leave you with two photographs of my Berlin neighbour, Frau Pankow. We don't understand each other very well, because Frau Pankow only speaks German, and mine is limited, but we do attempt to gossip from time to time. Frau
Pankow, who must be nearly 80, loves to swear about how shitty it is to be old, and how many pills she has to take. But she still smokes, and scurries around the local shops looking tiny, toned, wiry and energetic. Frau Pankow loves cats and geraniums. We invited her in to eat pasta with us once, but she declined, saying she had to feed her cat. With her short hair and her swearing, I imagine Frau Pankow was a bit of a Sally Bowles character in her youth. At the moment I have no plans to use her on my next album. It's been done.