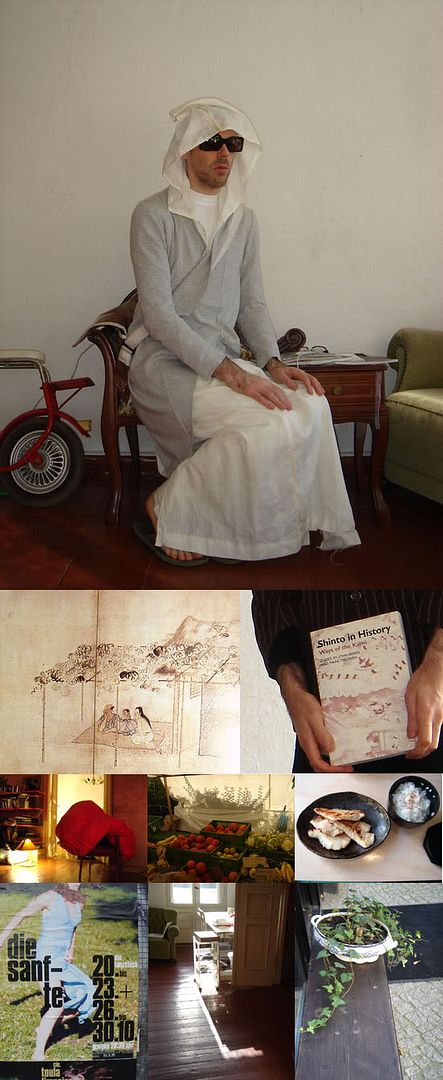 It's only me, surrounded by autumn consolations.
Moonflower Trellis in the Evening Cool
by Morikage Kusumi.
Shinto in History: The Ways of the Kami
(thanks
sarmoung
!) My apartment at night, vegetables at the Boxhagener Platz Saturday market, a fish lunch in Sasaya, Prenzlauer Berg. Poster for a dance piece, my apartment by day, ivy on a bench outside
Bless
.
Consolation for the ears
:
My Jazzy Child
Breton Drone
(from album "I Insist")
Alejandra and Aeron
Rioja
(clips
here
, thanks
intergalactim
!)
Brigitte Fontaine and Areski
Je Ne Connais Pas Cet Homme
Consolation for the eyes and mind
:
Yokohama Triennale review in Shift
The Grand Tour with Ando,
Casa Brutus
Relax "Give Peace a Chance"
issue (also being scrutinized by
Marxy
today).
And although I'm certainly not saying goodbye to Berlin myself, I found the tender farewell to this fabulous city on
Geeta's blog
moving.