Walks, ghostly voices, the spirit of place, radio, memory, art, road protest. It's all wrapped up in
Graeme Miller
's work. You can hear three of his pieces on BBC Radio 3's
Thinking Earth
page, or visit a Flash piece based around out-takes from
Linked
.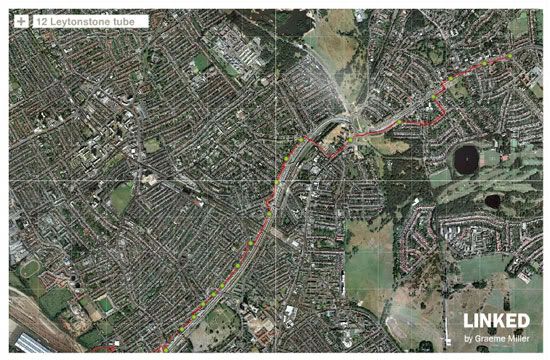 A
description
of the project: "Stretching across from Hackney Marshes to Redbridge, the M11 Link Road was completed in 1999 after the demolition of 400 houses amid dramatic and passionate protest. Now artist Graeme Miller has filled the empty spaces these buildings once occupied with a treasure trail of sound celebrating a century of everyday moments in East End life. Concealed along the three-mile route, 20 transmitters continually broadcast hidden voices, recorded testimonies and rekindled memories of those who once lived and worked where the motorway now runs."
My friend
Xavier Gautier
(he's Anne Laplantine's... well, husband, now) is showing his
Family Films
at Galerie Alain Gutharc, 47 Rue de Lappe, Paris 75011. Like Graeme Miller, Xavier is concerned with evoking memories, but what Xavier does is to splice sequences from memorable or moving Hollywood films with Super 8 home movies his parents shot in the 70s. The result is a kind of "epic memory" in which life and media intermingle. You can see examples
here
.
My spies at the
Frieze Art Fair
in London (and the zingier Zoo show next door, literally in Regent's Park Zoo) send me word that the Caetano Veloso album before
Araça Azul
is being featured in a display by Peruvian artist
Armando Andrade Tudela
.
Transa
sounds like a dismal, dead-end album, possibly a compilation for the Anglo market (more than half the songs are in English). But I like the sleeve, and the title of the last track: "Nostalgia (that's what rock'n'roll is all about)".