Since 2001 I've spent 19 months living in Japan. For whatever reason (and this goes right back to my childhood), wherever I'm living, Japan has always been the place I go to recharge all my batteries; spiritual, intellectual, artistic, and erotic. Well, it's eight months since I was there,
doing an art residency at the Future University in Hokkaido
, and now I'm beginning to get a bit restless. I'm in a "Japan mood", and so is Hisae. We're planning to spend the year's end and the first couple of months of 2006 in Osaka, right after I spend November working on a new album in Berlin with producer Rusty Santos. (We'll continue the recording and mixing in New York between March and May.)
This image, from
Florian Perret's blog
, brought back good and bad memories from 2001-2002, when I was living with Shizu just a couple of minutes down the Meguro-gawa from the bridge Florian was standing on when he took the picture. Follow the lefthand riverside walk, past the school, then take the narrow path between the tennis courts and the swimming pool, and our place was on your left, up two narrow flights of stairs. The big building you see on the left, in the foreground of the picture, didn't exist when I
moved to Tokyo
in 2001. It sprang up in an amazingly short space of time, from a plot of land the size of a handkerchief. Actually, come to think of it, I first stood on that bridge, shooting Video 8 of the baroque Gallery love hotel, way back in 1992, the day I walked from Meguro to Ebisu to visit Sony Music, who had their offices in Ebisu Gardens Place. This month I've just signed my worldwide publishing rights to Sony Music Japan for another three years. (It sounds like a very grand company for such an indie artist, but the reality is that my sales are so small that our roll-over deal will have to keep rolling over for years, otherwise Sony won't recoup their advance.)
Florian Perret made the sleeve for
Oskar Tennis Champion
, the only album I've written and recorded entirely in Japan. At the time Florian lived in Paris, but now he's living in Tokyo (after spending a while teaching multimedia in China), in the area of town I'd actually choose to live in if I had the resources: Nishi-Ogikubo. I really like the studenty, radical, youthful, relaxed feel of West Tokyo, out along the section of the Chuo line which runs from Shinjuku to Kichijioji. Now, when I imagine myself living in Tokyo, it's there. Nishi-Ogi is where I was living when I made my last
Tokyo podcast
, in late February.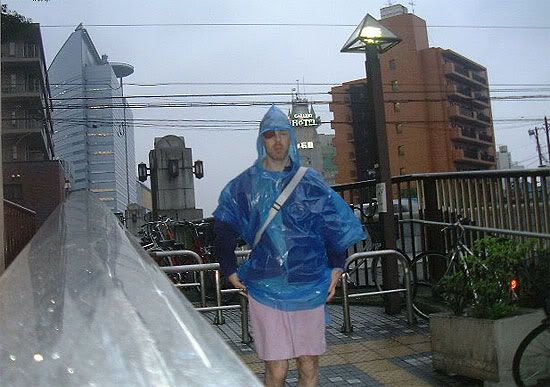 I can't say I was entirely happy when I lived in Meguro. We were a little far from the happening parts of Naka-meguro and Daikanyama (ten minutes by
bike along the river
), and I was in a relationship that was winding slowly down. As 2001 became 2002, I began to feel a bit cramped, constrained, and isolated in that Meguro apartment. I put this down to my failure to learn Japanese (I'm slowly correcting that) and to the fact that being foreign in Tokyo
does
isolate you, especially if you don't choose to hang out with other foreigners. I spent most of my time with my flatmates, Shizu and Chie (later Misa from Koyama Gallery)... and later, as Shizu and I grew further apart, I flirted with other girls, taking them to the
Organic Cafe
or along the banks of the river. I remember how it felt like there was never any privacy; there's not an inch of derelict or abandoned space in Tokyo, a single place that's not being used commercially, or isn't frequented by hundreds of discreet shades and ghosts, flitting by on bicycles or under umbrellas. And even if all the houses have frosted glass, they seem to be watching you too.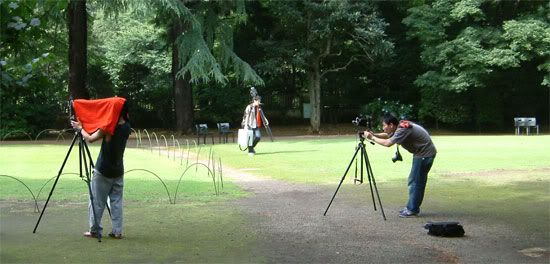 Later, staying again in Meguro, but at a different apartment just two minutes from that same bridge, I took a girl who called me her "Kissing Professor" up to the park that surrounds the Teien Art Museum, thinking we could conduct a "lesson" there in relative privacy, surrounded only by chirruping
semis
. Imagine my horror to discover the park multitasking as a photography classroom, filled with dozens of earnest students carefully framing every vista, every bush and every bench in the gridded viewfinders of their antique cameras, each hidden under a red hood. It was exactly like a scene from a painting by
Kuniyoshi Kaneko
. Most people would have cursed and checked into a love hotel, but I went off and wrote an essay celebrating the delights of Tokyo's
Double Density
.