My
column in Wired
today is about one of the key struggles of the 20th century. No, not communism versus capitalism, but a series of aesthetic and ethical struggles: modernism versus populism, minimalism versus decoration, the planner-intellectual versus the maverick agent. The piece is inspired by three things:

1. Something that came up on
Neomarxisme
a couple of weeks ago: "According to the audio commentary on the DVD release of George Lucas' 1971 debut
THX-1138
," Marxy reported, "Lucas originally wanted to shoot the film in Japan because its unique mixture of authoritarian social order and rampant consumerism matched his creative vision of a future dystopia." This got me thinking about the strange paradox by which many of the films presenting the most glamourous visual images of modernism have a distinctly anti-modernist thematic going on in their plots and ideologies. Those of us who just want to see
nice furniture
often have to sit through anti-modernist moral lessons from directors and screenplay writers in order to see the cool work of set and costume designers with no axe to grind. (Is this something to do with the difference between going to university and going to art school? Does a film set unite two cultures with totally different attitudes to modernism? Am I going to have to watch this DVD with the sound turned down?)

2. My visit, last week, to
an exhibition in Milan
about Italian designer Joe Colombo. Colombo's last piece (he died of a heart attack in 1971) was a "Total Furnishing Unit", an "interface" for all human needs, a kind of space capsule for Earth living, molded from yellow and white plastic. Although I personally love the idea of designers planning cool stuff for me to interface with, this "Total Furnishing Unit" is precisely the kind of "total solution" many individualists and right wing libertarians mistrust, and associate with Totalitarianism.
3. Which brings us to Ian Fleming, and the tale of the two Goldfingers.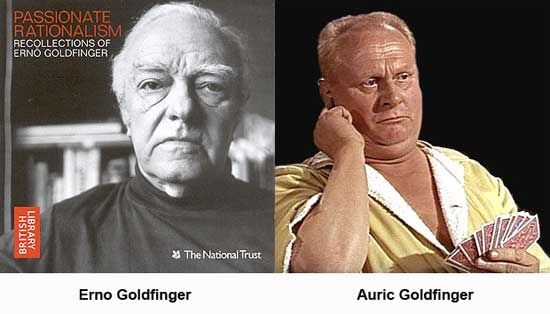 The Guardian
takes up the story:
"Erno Goldfinger was one of the 20th century's prime advocates of London tower blocks. He designed the often reviled Alexander Fleming House at the Elephant and Castle, Trellick Tower in Ladbroke Grove and Balfron Tower in Tower Hamlets. Erno - like Auric - was a British-naturalised foreigner and a Marxist who spent much of the second world war raising money for the Soviet cause.
"Fleming turned the dominating, 6ft 2in Erno into the 5ft imperious megalomaniac Auric Goldfinger, who nearly succeeds in stealing the US gold reserves at Fort Knox for the Soviet Union.
"One story explaining Fleming's animosity is that he lived for a time in Hampstead and disliked Erno's design for terraced houses in Willow Road. Fleming knew of Erno through a golfing friend who was related to Erno's wife.
"Erno somehow heard about the novel when it was in the publisher Jonathan Cape's presses in 1959... Erno ordered solicitors to act. Cape agreed to pay his costs and agreed out of court to make clear in advertising and in future editions that all characters were fictitious.
"Fleming... was livid. He asked Cape to insert an erratum slip in the first edition changing the character's name to Goldprick, a name suggested by the critic Cyril Connolly. Luckily for the film posters and theme tune of the future, sung by Shirley Bassey, Cape demurred.
"The real-life Goldfinger, however, deserved to be remembered as a visionary architect who wrote in 1941: "Cities can become centres of civilisation where men and women can live happy lives. The technical means exist to satisfy human needs. The will to plan must be aroused. There is no obstacle but ignorance and wickedness."
The will to plan versus the license to kill; the ethical choice seems quite clear. Here at Click Opera we say: Erno Goldfinger is
not
Goldprick. But Ian Fleming
is
Bondprick.