Rusty Santos took a break from recording the new Momus record last night, playing an intimate show at a club in Prenzlauer Berg.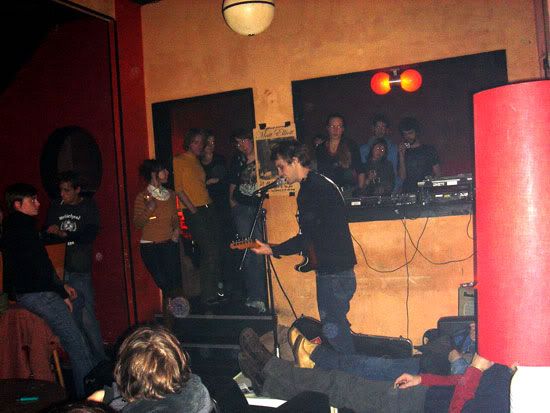 Live, Rusty is a tight, needy ball of nerdy energy, hunched over the mic in his baggy-ass jeans, an arty New York hipster commanding the complete attention of a room of arty Berlin hipsters, screeching in a sort of charming post-punk new wave neurotic way. He's a "singer-songwriter", but he's also manipulating his sound actively the whole time, crouched down over his Boss Dr Sample unit, sampling beats or guitar phrases and looping them, then singing and playing over the loose, jumpy loops. The processing is pretty extreme, wild pitch shifting and ring modulation on the voice, deliberately out-of-time beats made from amp clicks. The result is sort of like Devo crossed with Buddy Holly, produced by Laurie Anderson. Here's an mp3 of his sound:
Rusty Live clip
(2 mins. 04 secs.)
If, based on this, our collaboration sounds like an unlikely one, given all I've written about the kind of sound I'm after, you might not be surprised to hear that already all those
rules
seem to have gone out of the window. Maybe they only existed to be broken, to make pop music seem attractively forbidden. Anyway, yesterday's song "Moop Bears" was an infectious, rattly, chaotic jazz shuffle not a million miles from the "Belleville Rendezvous" theme song. I'm also finding the songs of Plan B, a British white indie rap artist, quite attractive at the moment — check
this video
, which I discovered thanks to
david_f
's blog, or a new song called
"Kidz".
I'm thinking of doing a rap song today, somewhat in the manner of
"Timecode"
, about a hard nut who stabs a bonsai tree and boasts about it. I know it's off the program, but allow it, bloods!