The New Musical Express has been accused of rigging its Writers' Poll of the year's best albums — for commercial and political reasons. The Guardian
reported
the accusation, originally aired on
Londonist.com
, yesterday. "Londonist claimed to have access to an early version of the poll that collated writers' responses before the editorial team intervened," wrote The Guardian's Andrew Dickson. "This spreadsheet, which has been seen by Guardian Unlimited, appears to record numbers of votes, and includes a running order significantly different from the published version." (You can see the published version on
this ILM thread
. It puts Bloc Party at Number 1, whereas the paper's writers put Arcade Fire top.)
According to The Guardian's
Culture Vulture blog
, NME's editor, Conor McNicholas, "laughs off suggestions of a conspiracy theory. "Most of us aren't organised enough to set up a conspiracy," he says. "I can guarantee that the final list as published is the editorial one, signed off by me. Any insinuation that there is any pressure brought to bear is a libellous one."
Well, I'm happy to say that I have a copy of the original NME Albums of the Year list, as voted for by the paper's writers, here in my hands right now. It's dramatically different from the list that eventually got published in the NME; Babyshambles, Oasis and the Kaiser Chiefs are nowhere to be seen. Here's an exclusive rundown of the Top 35 albums on the original list:
35. Tujiko Noriko "Blurred in my Mirror"
34. Belle and Sebastian "The Life Pursuit"
33. Black Dice "Broken Ear Record"
32. Devendra Banhart "Cripple Crow"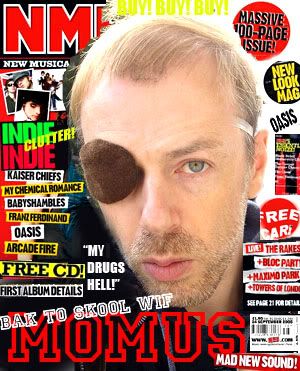 31. Momus "Otto Spooky"
30. Noriko Tujiko and Aoki Takamasa "28"
29. Bjork "Drawing Restraint 9"
28. Andrew Peckler "Strings and Feedback"
27. Architecture in Helsinki "In Case We Die"
26. Nathan Michel "The Beast"
25. Toog "Ame Soeur"
24. Rusty Santos "The Heavens"
23. Gorillaz "Demon Days"
22. Animal Collective "Feels"
21. Colleen "The Golden Morning Breaks"
20. Jan Jelinek "Kosmischer Pitch"
19. Lightning Bolt "Hypermagic Mountain"
18. DJ Elephant Power "No Si Ni So"
17. Jason Forrest "Shamelessly Exciting"
16. Vashti Bunyan "Lookaftering"
15. Simon Fisher Turner "Lana Lara Lata"
14. The Fiery Furnaces "Rehearsing My Choir"
13. Ariel Pink "Worn Copy"
12. Terrestrial Tones "Oboroed / Circus Lives"
11. Slow Ghost "Snow in the Portrait of Eyes"
10. Gang Gang Dance "God's Money"
9. Deerhoof "The Runners Four"
8. Domotic "Ask For Tiger"
7. Electric President "S/T"
6. B. Fleischmann "The Humbucking Coil"
5. Aki Tsuyuko "Hokane"
4. Gutevolk "Twinkle"
3. Dungen "Ta Det Lugnt"
2. Alejandra and Aeron "Porto"
1.
Hauschka
"The Prepared Piano"
(NB: As this list has been signed off by the editor of Click Opera before publication, it may not reflect the exact choices and positions voted for by the NME writers.)