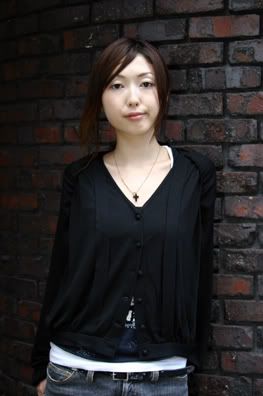 I feel like I've raved forever about Sapporo-based design e-zine
Shift
. I've
always liked
the way their conception of design is wide enough to include a Girls on the Street fashion section. (You can see the latest batch, photographed as usual by
Atelier Fly
's Meyuga,
here
, but the styles these days are a bit... understated, it must be said.)
When I visited Sapporo in January, the high point of my
podcast
was a visit to Shift's headquarters, a big brick building consisting of Shift's offices, a gallery and small bookshop, a lending library devoted to art, architecture, design and photography books, and the wonderful Cafe Soso. I also keep a close eye on the
Shift blog
, which often supplies topics for Click Opera (and vice versa).
So I'm delighted to say that Shift has just published its first
article about me
, written by their Milan correspondent, Francesco Tenaglia. It's blushy stuff: "Nick Currie's writing is brilliant. He manages to bring together apparently unrelated cultural products and ideas to create lucid analyses using the composite microcosm of visual culture as a platform to observe the broader aspects of society." (Francesco clearly hadn't seen my "Black Ships" essay when he wrote that!) It also finds me in somewhat religious (or is it megalomaniacal?) mood, answering a question about collaboration with a desire to work with the Great Designer in the Sky: "Nature or chance or God or whatever we call it is the ultimate designer. Looking down at the world from a plane is perhaps my favourite visual experience. I'd like to work with whoever laid that stuff out!"
Speaking of intelligent design, it's great to see a major, free archive of poets reading their work online. Launched this month after five years of planning by its architects, poet Andrew Motion and recording producer Richard Carrington,
The Poetry Archive
is a fabulous resource, a place you can visit to hear everyone from
Peter Porter
(an early hero I used to
quote
in my NME interviews) to
Adrienne Rich
.
But, alas, Poetry Archive's design isn't as intelligent as its content. The embedded RealAudio implementation is appalling. You have to click the title of the poem you want to hear, then scroll down to where the embedded player is, and click "Play" to hear it. There are no FF or RW controls, and you can't open the file in Real Player unless you look at the page source and find its name. What's more, when you click on another poem by the same poet, it plays the first poem again. The only way to play further poems is to look them up in the Poems Index. I went so far as to download Opera, thinking it might be a problem with the Safari browser, but in Opera it was worse; I couldn't even play the first poem. I'd recommend Motion and co. to get a professional designer to look at their site... but I'm horribly afraid the make-over would involve Flash, and just make things worse.
Finally, just a word to say that Click Opera will be quiet over the weekend. I'm flying to a secret location in England to attend my brother's wedding, but I've been forbidden to mention anything about it here, because Click Opera is a scurrilous and disreputable place, the kind of place you wouldn't want respectable wedding photos displayed or the names of decent people named. And it's quite true; regular readers know that all we tend to talk about here is the size of black men's willies. So mum's the word... see you Monday!