Hisae and I spend Saturday in Kyoto, attending a presentation at
Momak
by montage photographer
Beate Gutschow
and seeing the "German Photography Now" show there.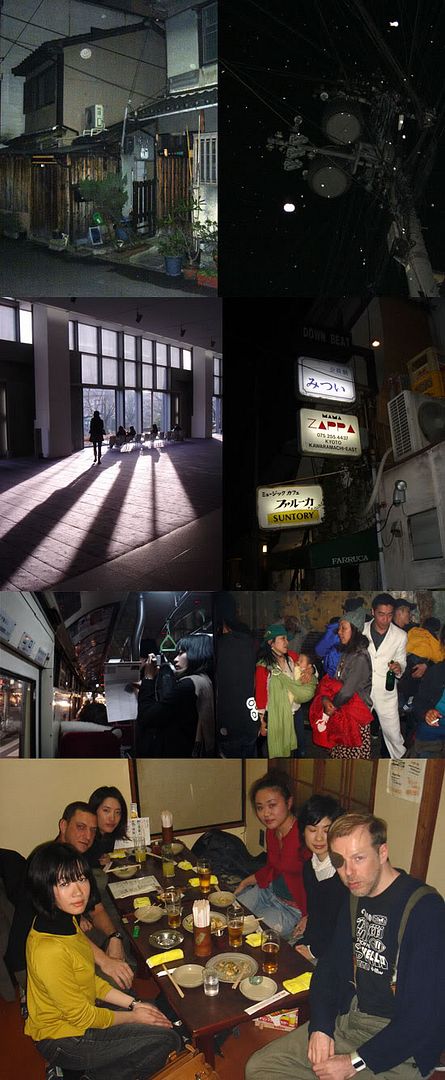 Osaka to Kyoto is a bit like London to Brighton, a commuter trip you can take in under an hour, for under ten pounds. Such a short trip, though, produces a big change of atmosphere. Kyoto is up in the hills, colder than Osaka (it was snowing when we arrived). There's something spiritual there, with the mountains and the temples, but also a cosmopolitanism (so many
gaijin
everywhere, and look, here's Mama Zappa, a restaurant David Bowie favoured when he lived here, and which has kept his picture in the window ever since!). There's a real vitality in the narrow streets of Kawaramachi. And so many friends;
Sparklig
,
Joopy
,
Midori Hirano
, Berlin DJ Bym of
Bym Music
, my Mixi friend Mosko.
We bump into Mosko at the Cafe Independent, and she encourages us to gatecrash a super-boho Kyoto wedding party at which the bride looks to be at least four months pregnant, under layers of white shawls. Sadly we have to tear ourselves away and catch a late train back to Osaka.