Artist name
: Akira Yamaguchi
Date of birth
: 1969
From
: Gunma prefecture
Education
: Graduated from painting course, Tokyo National University of Fine Arts and Music, 1994. Master's degree from same school, 1996.
Best friend
: Makoto Aida, the suave pervert who made a name for himself with
"harakiri schoolgirls"
and other works of
Kawaii Noir
, was a friend at art school, and the pair, both now famous, continue to exhibit together.
Style
: Phrases like neo-trad, retro pomo and anachronistic
kulturkritik
spring to mind, but the Japanese art press has used the term "Kotatsu School", named after an exhibition Yamaguchi held in the
Mizuma Gallery
in Nakameguro in 1997, jointly with Makoto Aida. (They've held shows at Mizuma every year since then.) The Kotatsu School is not to be confused with the "Kotatsutop" laptop / Japtop music of
Yuko Nexus6
! (Or is it? Trad Japanese themes meet modern technology,
hmmm...
)
Status
: Yamaguchi pulled off a double whammy in 2005: his art won him cover features in both major Japanese art magazines,
ArtIt
and BT (
Bijutsu Techo
).
Trivia
: A friend of Sofia Coppola, Yamaguchi played the Bellboy in "Lost in Translation".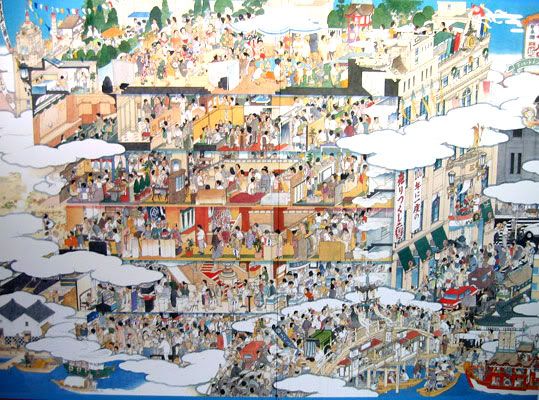 Gallery blurb
: [All spelling mistakes courtesy Mizuma Gallery] "Yamaguchi's works may look like a Japanese traditional ,
"Yamato-e"
, style painting. But coming to the details, you will find a businesman in dark suits, modern tall buildings, motorbikes, and even the rural scenery in Europe at the same time, among past day's people or a crowd of samurai... His unique painting style is brought by his doubt about Japanese modern history. Japanese has westernizeated so quickly and brindly especially in 20 century. It is applied to fine art. Constrution of contemporary art does not come from Japanese. Objects, installation, concept etc. everything comes from Western thinking. He makes his work as if he were a fictitious painter in a ficititious Japanese history of art which Japanese had not been westernized quickly."
Artist statement
: [More charming misspellings of 'fictitious'] "If Japanese hadn't Westernized so quickly, Japanese contemporary artists would create such works. Because of this image, I may keep painting a trying to pretend a fictious artist in a fictious Japanese art history."
Press clipping
: "As a child, Akira Yamaguchi spent countless hours hunched over his desk, doodling the many space-age rocket ships and humanoids he encountered in his bedroom anime collection. The young artist, however, also remembers feeling a sense of guilt whenever he attempted to mimic more traditional Japanese art forms by past masters like Hokusai. "It's probably a uniquely Japanese way of thinking, but I felt it was blasphemy," says Yamaguchi, 35. "For me, classical art was something for the elite and not to be meddled with by commoners like me." This underdog mentality towards the established art of his homeland, however, would in fact be the catalyst for Yamaguchi's own career. He developed a radical approach to Japanese art that
combined Western oil painting techniques with a traditional compositional style, originating in Kyoto, known as Yamato-e (literally, Japanese images). During his college years, he began to obsessively copy and then re-create old-school Japanese landscapes and portraits, which he then infused with a renegade parade of anachronistic robot-androids, motorbikes and steel buildings." Ken Kawashima,
Japan Times
Selected Images
:
View of a mock-up Japanese shitamachi district
, with Japanese tourists mingling with costumed Japanese actors. (Shades of
The Japanese are almost Japanese
.)
View of a sento
. But the internet is completely useless for viewing Yamaguchi's work. Even his books come with a plastic magnifying glass attached. You have to see this stuff big, on a gallery wall.
Interview
:
In Japanese
.