I'm in Tokyo for the rest of this week, staying in Ogikubo with Florian Perret, a friend from Paris who designed the sleeves for
Folktronic
,
Oskar Tennis Champion
and the
Super Madrigal Brothers
album.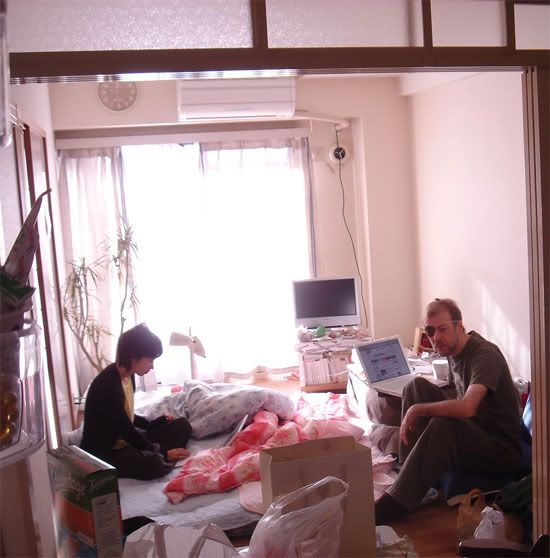 Florian
now has a very high-powered job with a Tokyo animation company... and a new baby! It took a while to find his company's HQ last night though: we had to go into the lobby of the Hyatt Century to ask directions, which felt like walking onto the set of
one of my least favourite films
, set in one of my least favourite parts of this city. Right after leaving the Hyatt lobby with its fuck-off chandeliers, arrogant
gaijin
and Saudi marble we walked through Chuo Koen, a park inhabited by homeless Japanese living under blue tarpaulin. Big city, big
Gini
spread.
Over dinner at my favourite Nishi-Ogi restaurant last night (a tiny place with room for just ten people, hidden in a backstreet... God, the crispy
tatsutaage
mackerel was delicious!) Florian told us that rents in Tokyo are now cheaper per square metre than those in New York, London or Paris. He pays around €800 a month for 50 square metres, which, while not quite Berlin-cheap, is pretty reasonable. And the area's nice.