Here's the first glimpse of "Fotolog", the forthcoming Thames and Hudson book about photoblogging I've contributed texts to. It'll be published in March.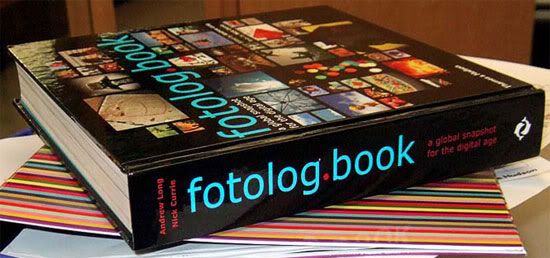 For a big contacts sheet of all the snaps I took yesterday in Tokyo, click the picture. Yesterday was close to the Platonic idea of my perfect day: wandering around Harajuku (La Foret, the new Omotesando Hills building, the sale at Nadiff, Dragonfly Cafe for lunch), then over to Daikanyama for lively conversation with Shizu and David D'Heilly, a look at the great
Makoto Aida show
at Mizuma, followed by a marathon seven hour eating and drinking session with friends of Hisae's at Sasurai, a cosy, young, stylish and delicious restaurant in
Sangenjaya
(the
shitamachi
district some call Sancha, or "three teas"). The afternoon conversation (mostly
gaijin
) was all art, politics and culture, the evening conversation (Japanese people) all food, friendship and sex, so I felt like my centre of gravity moved from my head to my stomach as the day wore on, or from my ego to my id (as the alcohol took hold).
Meanwhile, over in California, Wired published my new column,
Japan grows a beard
, a piece about the Slow Life movement.