Once upon a time I wrote a song called
"Hippopotamomus"
in which the narrator, a hippo who happens also to be a Momus, is also an
artiodactyl
; a member of the order of animals (pigs, dromedaries, mountain goats, gnus and so on) with two toes. Well, I must admit that when I uttered the gruff (and rather saucy) lyrics to that song I wasn't actually two-toed. But since visiting a shop called Marumi Working and Casual Wear here in Osaka, I've been walking around in two-toed socks and shoes. I have become artiodactyl.
Osaka may be
the world's fourth most expensive city
, but if you know where to shop (hint: Shinsekai, home of the 2000 yen flophouse) you can buy, for the equivalent of £30 sterling, the following outfit, not un-related to
construction worker chic
:
1 pair cloven toe carpenter's shoes
6 pairs cloven toe socks, cream and grey
1 pair wrist bands with traditional Japanese wave pattern

1 dark blue hooded sailor top

1 pair plastic elastic-top trousers with inner padding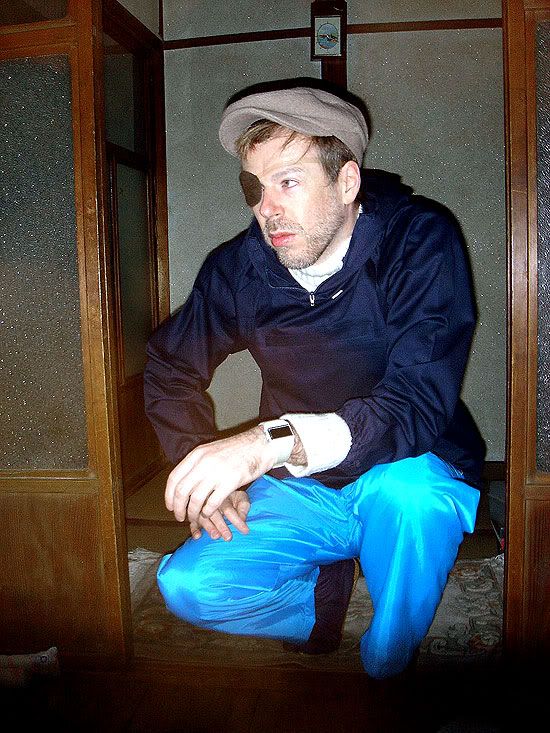 Not only will this qualify you (to the untrained eye, anyway) as an artiodactyl (to the trained eye you'll resemble a Japanese carpenter, for whom the shoes are made), it'll allow you to pose on an equal footing, so to speak,
with a Japanese Colonel Saunders
and
a Japanese Charlie Chaplin
. Well, okay,
Chappurin
has bigger shoes.
(If you're in Osaka, a reminder that this Sunday I play my only Japanese concert this year in the city. Details
here
.)