Hello, I'm Momus and apart from being a blogger, an artist and a
journalist
, I'm a musician who's made umpteen albums and is making the humpty flipth right at this very moment. Now, I've been hearing that Momus albums are finally appearing on iTunes music store, but I gather that iTunes gives different results depending on where you are in the world. This is what I get when I search iTunes for Momus: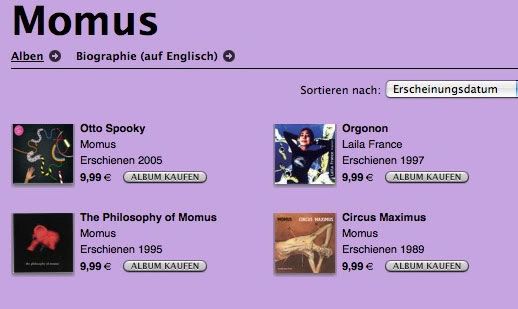 Perhaps because of a previous cookie, I seem to be getting the German iTunes store even though I'm now in Japan. So could anyone in any country who uses iTunes check what Momus material is available, and leave a comment here telling me what records of mine are up there? I'd also be interested to know what Momus stuff is available on
eMusic
or other services you know about for downloading music, and what comes up on any free p2p services you use.
Don't worry, I'm in favour of a "mixed economy" of online music, ie I'm quite happy that some stuff should be free and some should be for sale. Post anonymously if you have draconian persecution of music downloaders going on in your country.