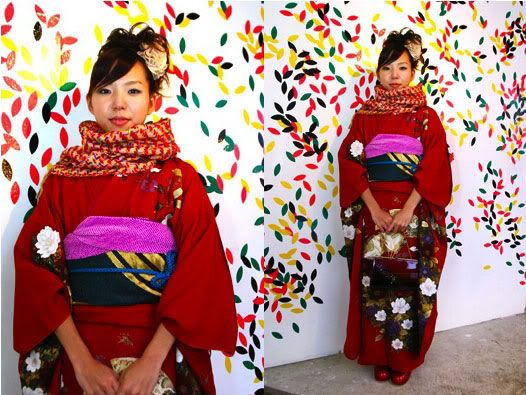 The great
photographs
of Sapporo girls in kimonos on the Shift site this month (shot, as usual, by Meguya of
Fly
) made me think about the way my ideas of sartorial elegance, beauty and gorgeousness have drifted away from modernity, the West and the present towards tradition, the Orient, and the past. Shift seems to have moved in the same direction: whereas ten years ago Shift and I were content to walk around Harajuku
looking at t-shirts
, now we're only happy when gazing at the colourful patterns of kimonos, Japan's most ancient and traditional garb. But how did it come to pass that gorgeous patterns, colours and shapes were suddenly to be found only in the past? How did the past become more colourful than the present, more "progressive", with lovelier values? Is the future something to do with embracing some of the values of the past?
My greatest errors, Part 258
: I was waiting for the market, and modernity, to bring me sartorial gorgeousness.
One by one, the following things disappointed me as possible sources of this gorgeousness
(bracketed figure denotes approximate date of my disillusionment): the Paris collections (1995, date I first attended actual Paris catwalk shows), stylists on Western magazines (1991, date I was styled for Vogue UK by Isabella Blow, the most original stylist of her generation),
urban hipsters in trendy cities
(1998 to present, as I progressively scoured and exhausted Hoxton, Williamsburg, Daikanyama only to find chromophobia, skulls, and slightly-differently cut and textured denim), thrifting (2001 to present, as I increasingly find the same mass produced conformities in the thrift stores that I find on the streets), Cutie magazine and Japanese youth culture as portrayed in street fashion magazines like FRUiTS (2001 to present, since the decline of
ganguro
, the last Japanese youth culture style of any interest).
Some things escaped the "cull" of my progressive disillusionments
: ethnic dress (as shown in Tibor and Maira Kalman's book
(un)fashion
), traditional religious garb (
robes
, etc) as worn in ethnic (mostly Muslim) urban areas like London's Brick Lane, the clothes worn by
elderly Berliners
, the uniforms of traditional craftspeople and guildworkers, Rastafarian style and the fashion sense of one or two exceptional pop stars like
Eye Yamataka
and Devendra Banhart. The frilly revisionism of
Gothic Lolita
. And certain
eccentric sartorial investigations
carried out in the Western
art world
, still capable of impressing me, mainly thanks to the art world's dedication to "otherness" and "buying and selling that which cannot be bought or sold".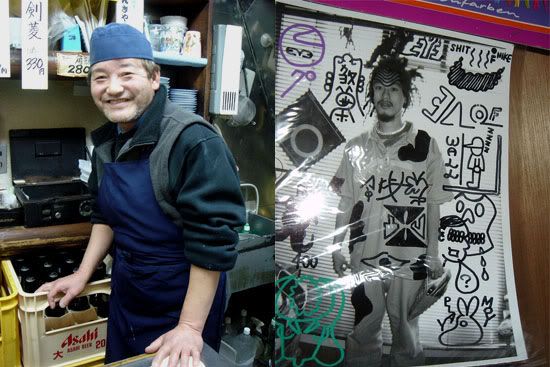 Analysis of the shift in my taste
: I have abandoned the idea that gorgeousness can come from the production system of today's free market, the present, or the West. I believe this is because the West embraces the credo "Give me convenience or give me death!" The modern West is incapable of seeing formality or dignity or commitment or even colourful flamboyance as a virtue. The West has eradicated, in men and women, the idea of femininity because it is terrified of femininity. The West breaks down small groups (guild carpenters who wear carpenter garb) in order to make us all one big group of "individuals" who nevertheless wear the same thing (white shoes, jeans, t-shirt, black jacket), the same all-purpose convenio-garb. The West, with its concepts of time management, profit and efficiency, cannot justify the beading of a dress, the embroidery of a blouse, or the weaving of a carpet unless a machine can do these things in a matter of seconds. Ironically, Eye Yamataka's
show at ArtZone in Kyoto
was mostly built around the paradoxical idea of the laborious embellishment of simple mass produced convenio-clothes, the protracted and penurious hand-decoration of T-shirts and jeans, the pouring of hours of work into the kind of clothes most people take seconds to pull on. The re-insertion of formality into the informal, one might call it.
The last record I bought -- and I don't think this is unrelated -- was a
Trojan triple box set of Nyahbinghi reggae
, including early recordings of Count Ossie, the Nyahbinghi drummer who was coaxed down from pious Rastafarian meditation in the hills by Prince Buster. There's some parallel between Count Ossie's music and the lovely kimonos in Shift this month; they're both visitations, visible and available in brief flashes at the margins of our system of conception and production, from a system of conception and production which is very different. And although I know that glorification of this otherness is Romanticism and Rockism (and finally entirely compatible with capitalism's colonialist-orientalist effort to capture the uncapturable, sell the unsellable, and commodify exotic goods not produced by it), I can't help it. Count Ossie and kimonos just seem inherently gorgeous.