Well, after telling you
yesterday
that some of my new stuff is "hits in a parallel universe", I thought I'd show you. Here's
a homemade pop video
I shot yesterday in Kyoto, cycling through a shopping arcade on the west side of the city. It's for "Frilly Military", one of the songs that'll be on the new album. Click the picture to see it. It's 15.7MB.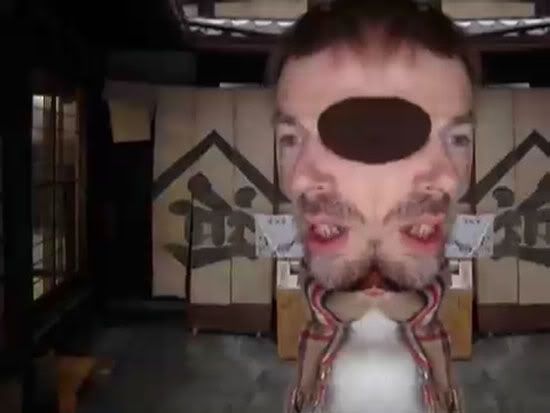 The song (a big hit in a parallel shopping arcade, for sure) is a reworking of one I wrote for Kahimi Karie back in 2001. I recorded and produced it in Osaka this month, and John
Fashion Flesh
Talaga reworked it (especially the skippy buildy bit at the end) in Bay City, Michigan. And now it's everywhere at once (there's even a blocky-dizzy low-res version of it on
YouTube
).
Oh, "Frilly Military" is published by Sony Music Japan. And the video was made with iMovie. Love those cheap and cheerful effects! My "Ocky Milk" album is due out this summer.