Saturday was my last full day in Japan before I head off for three months in New York; it was also the warmest day of the year so far. Hisae and I went to Hirano, a
shitamachi
district in the south of Osaka. There, in a temple garden, I saw
hatsuhana
, the first cherry blossom of the year. (The word can also refer to a young girl coming of age, or her first period.) It usually comes at the end of March, but this year it's a month early, which is slightly ominous. Global warming, or just the benign sun-trap of that lovely temple garden?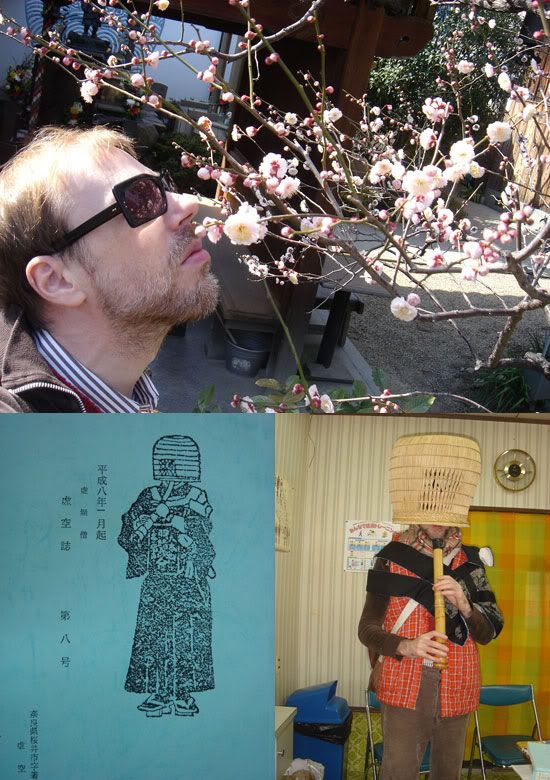 Rooting around in a junk shop in a nearby arcade, we heard the lovely sound of three
shakuhachi
flutes interweaving lines. We asked the salesman if there was a music school nearby, and he said that it was the owner of the shop, giving private lessons upstairs. Did we want to visit? We did indeed, and were ushered into a room in which three players sat, the
sensei
(a Kansai University professor), his friend, and a young female student. The wallpaper and floor-covering of this room was amazing, very 70s. On the wall hung a calendar showing a Japanese alpine scene.
We were warmly welcomed (
sensei
, hearing I was from Scotland, even gave me a rendition of "For Auld Lang Syne"), and the music sank me into a most delicious trance (which didn't stop me surreptitiously recording the flutes with my camcorder). Afterwards, the
sensei
, sensing my interest, and learning that I was a musician myself, went to get the full traditional gear and let me try it on. For some reason,
shakuhachi
players are supposed to wear a big basket over their heads, one that completely covers their face. I think it goes back to samurai times; if you want to visit a rival samurai's castle to spy on him, you wear this big basket over your head to hide your identity, or something. Anyway, it was the weirdest, most extreme headgear I think I've ever worn... And the
shakuhachi
I'm holding in the photo is probably the most expensive musical instrument I've ever touched; it's worth about $43,000. Apparently it's very difficult to find a piece of bamboo with seven segments of just the right length. Only about 10% of bamboos fulfill those criteria, and many of those crack when they're drying, so they can't be used.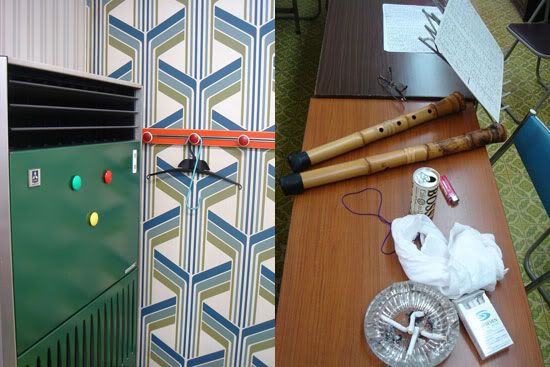 Money can't make you happy, but you certainly need a lot if playing the
shakuhachi
is what makes you happy. Then again, like a basket-headed samurai spy I came away with enough of the sound of the instrument on my Cybershot memory card to add a solo or two to my album... Scot free.
Trivia question: which song on the very first Momus album opens with a
shakuhachi
sample played on an Emulator 2?