At a loose end after a day of unreliable tour guiding yesterday I headed down to SoHo and looked at
The Garden Party
, the current show at Deitch's Wooster Street gallery, proposed as an "erotic garden" in the tradition of Giorgione and Manet. It's a spectacular and impressive show, in the Deitch tradition of lavish installation and sexy but well-chosen art. In a kind of answer to my lament of last week,
Where have all the New York Japanese gone?
, the "erotic garden" was full of them (not to mention lots of tasty paintings and installations by Cecily Brown, Momoyo Toremitsu and others). I ran into my old friend
Hiroshi Sunairi
, who was showing round a party of Tokyo gallerists over for the Armory Show, some of whom I'd already met at art events in Japan. They were the staff of
Kodama Gallery
, which started in Osaka but now has a Tokyo branch (you can see Kodama Gallery's Armory stall in the top right photo in
Wednesday's entry
) and Kazuyuki Takezaki, who's opened his private apartment in Ebisu as
Gallery Takefloor
.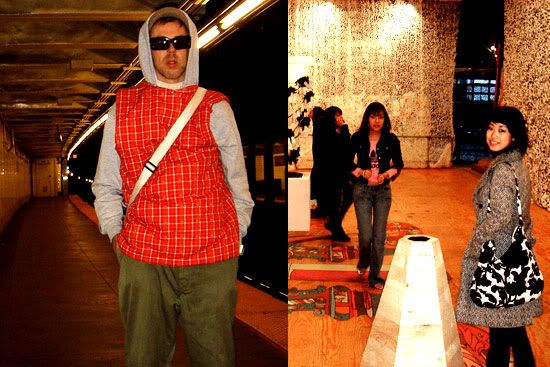 Hiroshi also introduced me to two Japanese girls who run an art magazine called
Educated Community
. They immediately recognized the tartan padded jacket I was wearing as a
dotera
, usually worn by old ladies sitting at a
kotatsu
table, and clucked about how
kawaii
my
oba-chan
style was. Art magazines became the evening's theme: we all re-convened up at
Boesky Gallery
in Chelsea (Takashi Murakami's gallery), where there was an opening for a Chinese artist
called
Yi Chen
(big-eyed creature-paintings based on magazine collages, didn't look very "Chinese"). Here we were joined by staff from
ArtKrush
,
FlavorPill
and
Art Asia Pacific
magazines. Art Asia Pacific's staff had already kindly given me copies of their magazine at the Armory Show.
The current ArtKrush has
an interview with Philippe Vergne
in which the Whitney curator has this to say about my performance in the Biennial: "Momus is our unreliable tour guide who tells us that there is no truth. I think an exhibition should be about freedom of interpretation and organic, individual expertise. You grab what you can, you see what you wish, and you leave the room with your own conclusions. This is what the work is about. It is always up to you, and that's what's difficult — embracing the responsibility to make a decision for yourself and not look up to a structure of authority." So there, you have your instruction not to look up to authority on good authority!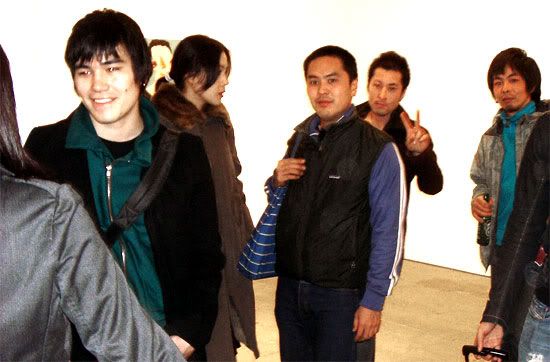 Other artzines and artblogs worth mentioning (apart from the obvious
Artnet
) are Aaron Rose's
ANP Quarterly
(not available online). You can read an
interview with Rose
in the charmingly-named
Fecal Face
, a bay-area arts scene blog.
Teenage Unicorn
is a nice resource for snapshots of openings (good for fashion tips).
We ended up at the apartment of
Diego Cortez
, curator, downtown music-scene impressario (he co-founded the Mudd Club) and good friend of Arto Lindsay (who's currently in Brazil).