Imagine you're in New York City in 1972. Nixon is in power. New York is a more violent and shitty city than it is today, teetering on the edge of bankruptcy. It's an obstacle course, dangeous and somewhat hysterical, and that extremity is reflected in its downtown art scene.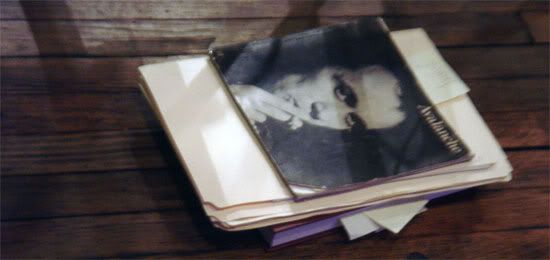 You enter the empty, pillared space of Sonnabend Gallery on West Broadway and witness an installation by Vito Acconci, a poet turned performance and video artist. It's called
Seedbed
. It consists of an angled ramp rising from the gallery floor, and Acconci hiding under it, lying full length, masturbating, and talking to you through a mic and speakers as if you were his lover. It's architecture, a sound installation, poetry, an affront, an improvisation, a performance, an act of deviance, a definition of space, a throwing-into-crisis of etiquette. It's a voice, an exhibition, an act of hidden exhibitionism. It makes Acconci's name and spreads his seed.
And here's Acconci in 2006. New York has calmed down, and Vito has become an old man, a veteran of the art world, a bit of a
hero
(outside on the street a sign reads "Tonite:
Elvis Presley
Vito Acconci"). He still has a rich, sensual, slightly stammering
voice
. Now, though, he's talking to us like an audience, not a lover. We're at Spoonbill & Sugar, a bookstore on Bedford Avenue, Williamsburg. Vito has a new book out, and he's talking about his unusual career path -- from concrete poetry to performance art to architecture. They sort of fit, though: the poetry works with the field of the white page, then the performance and installation art works with the field of the white cube gallery, then the architecture is semantic, a built book, quite literally concrete poetry.
Here's a sound clip I made of Vito talking about his most famous work, the piece where he lay under the floor at Sonnabend masturbating:
Seedbed
(3.40 mins, mono mp3 file, 1.7 MB)
And here's a poem he made for a two channel video installation: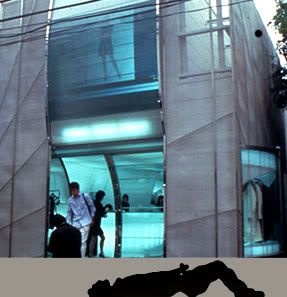 Gunshots
(2.49 mins, mono mp3 file, 1.3 MB)
It's a long way from New York in 1972 to Tokyo in 2006, but Acconci's there too. He's the architect of United Bamboo's Daikanyama store, and an impish part of me likes to imagine the Vito of 1972 lying under the glass floor of that chic fashion boutique, crying out his sexual hunger to the well-heeled Japanese girls who come to shop there, still masturbating furiously, still spreading his seed. (In fact, Vito did propose something rather erotic:
cameras behind the store mirrors
, relaying photos of customers to a video monitor at the front of the store.)