If you read my Wired column this week, which modestly proposed that people
commit MySpacecide
by deleting their Rupert Murdoch-owned social networking pages, you may be wondering what I recommend as a replacement for the hours people are currently spending on MySpace. The answer is simple: go out and buy issue one of a new American magazine. There are some good new ones, just starting out, that need your support.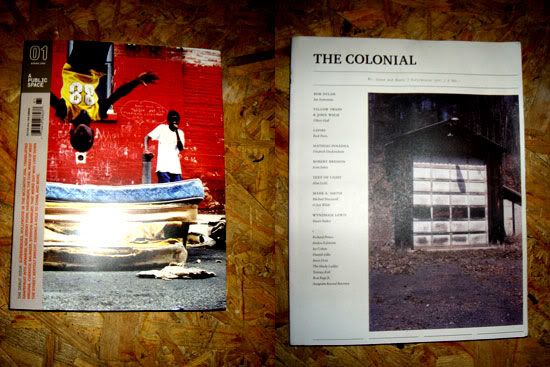 A Public Space
is a new literary magazine. It has the format and layout of a collection of short stories in a paperback. Issue one has a section called
Focus Japan
which has interviews with Haruki Murakami, translator Motoyuki Shibata and the journalist Riyo Niimoto. "How do the Japanese see Americans through their literature? Does The Catcher in the Rye read the same in Osaka as it does in Omaha?" the magazine asks. There are also short stories from Yoko Ogawa (a particularly good one), Masaya Nakahara (of noise band Violent Onsen Geisha) and Kazuchige Abe. Unfortunately, issue one of A Public Space is now sold out, although you may still find copies on the shelves of booksellers.
The Colonial
is a new magazine from LA, a sort of Californian
Purple
. There's an interesting polemical essay on Dylan by Ian Svenonius in the
debut issue
, as well as splendid essays on Robert Bresson, and the secret connection between Mark E. Smith and Wyndham Lewis (in a piece by my friends Michael Bracewell and Jon Wilde). The magazine is produced with a nice introverted feel, typed on rice paper, and the photos are good too. I may be writing something for issue 2. You can buy The Colonial in LA Chinatown at
Ooga Booga
, a store which contains a whole flotilla of interesting stuff.
Finally, if you're in New York, do come along to the
Whitney
this evening. We're celebrating peace, and we're celebrating the Peace Tower in the courtyard, built for the biennial by Mark Desuvero and Rikrit Tiravanija, by playing some free music. By "we" I mean Momus, New Humans, Japanther and Apeshit. There's also poetry from
John Giorno
, the Beat legend and master of
"human delay"
, and an address from German artist Hans Haacke. The evening's events:
6:15--Opening "invocation": Nora York
6:20--Opening words: Irving Petlin, Arnold Mesches, John Weber
6:40--Hanging of Andreas Slominsky's panel
6:45--Performance: Momus
7:05--Speakers: Elise Gardella of Friends of William Blake (for Paul Chan), Michael Ratner (Center for Constitutional Rights), Lynne Stewart
7:20--Performance: Apeshit
7:40--Spoken word/poetry: John Giorno
7:50--Performance: New Humans
8:10--Speakers DeeDee Halleck & Matthew Day Jackson
8:20--Performance: Japanther
8:40--Speakers: Final words by Martha Rosler & Hans Haacke
8:50--Final Mingling: special ipod program by TBA
9:00--End
Peace, out!