The question "What do you do?" used to be unproblematical. I told people I was a musician, or perhaps a singer-songwriter. And it was true; I had albums in stores to prove it, with my name and my face on the cover.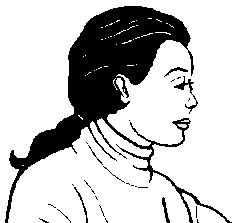 Now, though, I'm not so sure. I seem to have changed. I mean, what I do isn't really different; I still basically tell stories, just as I did on those records. But I do it in a different context. In
journalism
, but also in art galleries and museums. These days, I sometimes say "I'm an artist".
Last night my friend Betty Nguyen, who works at
Leo Koenig
gallery in Chelsea, invited me to a special event there, a "hardcore dinner" by Austrian artist Paul Renner, modelled on the last requests of death row murderers. About thirty people ate beef tartar in honor of John Baltazar, executed January 15th, 2003, chef salad without meat in honor of Stanley Baker, executed May 30th, 2002, breaded fried shrimps in honour of Henry Dunn, Jr, executed February 6th 2003, then chocolate birthday cake with seven pink candles, in honor of Miguel Richardson, executed June 26th, 2001.
I sat between some Koenig artists, painters, and some people who'd come along because the event was listed in the New York Times as a $100-a-head "conceptual dinner"; the lady opposite me worked for Pfizer Pharmaceutical, the person to my left did "political risk analysis for emerging market countries".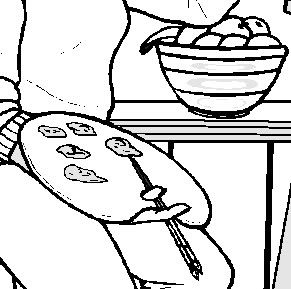 When these people asked what I did, I told them "I'm an artist. I have a performance piece in the Whitney Biennial at the moment. I show with Zach Feuer Gallery, just the next block up. Mostly
performance...
"
The Koenig artists backed me up, asking me what I was working on after the Whitney "in terms of new art projects". One of them had included a portrait of me in a canvas he'd done, and, as the evening wore on and we got drunker on champagne, bloody mary, white wine and pear schnaps, he told the ladies-who-dine: "This guy is the ultimate bohemian! I imagine you (sorry!) as the ultimate couch surfer, spending your whole life living like a parasite in other people's houses on inflatable beds in different countries, with two Asian women on either side!"
"They're inflatable Asian women, too!" I joked, adding "Wow, I wish I was the guy you think I am!"
But, you know, I sort of am that guy. I don't seem to be a musician, anyway. I didn't spend last night at the Mercury Lounge or the Bowery Ballroom, checking out a friend's band, saying hi to my tour agent and my press agent, handing out promos of my new album. I
do
have a new album coming out, and it's a very decent record. But who we are isn't up to ourselves alone. My new album probably won't get reviewed in important publications like Pitchfork and The Wire. It won't be legitimated by those authorities, and I probably won't tour it around the US, as I used to tour albums.
On the other hand, art world things
will
continue to happen. The momentum is there now, the kinetic hype-energy lacking in my music career. I'll participate in a group show at London gallery
Blow de la Barra
between June and September. That's significant because it's the first time my art career has shown up on the radar anywhere outside of New York (apart from one piece in a Tokyo show in 2002, a recut of a Takashi Miike film I made for the exhibition
Urbanlenz
).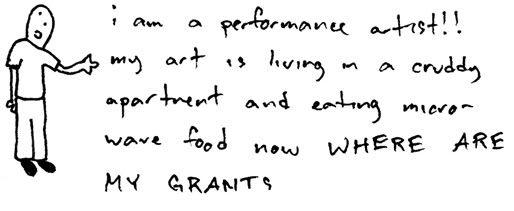 I'm proud to say I'll also be included in
Cream 4
, Phaidon Press's annual "who's who of the new cream of the crop artists selected by ten of the world's most influential art critics". (Curator Philippe Vergne selected me and will write about my art pieces in Cream; thanks, Philippe!)
I don't want to act all faux-surprised and gee-whillickers about this. I've long been considerably more interested in the art world than in just about anything else. I didn't go to art school, but my best friends when I was a student were art students from
Grays
. My songs (like "Murderers, the Hope of Women", named after a Kokoshka performance) have tended to draw more inspiration from the art world than the world of music. In London in the late 90s I was on the art scene, not the music scene, and starting in 2000 I began to show in galleries, thanks largely to
Zach Feuer
, who's still my "dealer" today (except that I don't have any "prices" -- I don't actually sell art, just make performances), and to whom, more than anyone, I owe this rather interesting transformation.
I just had to draw up a list of important reviews for Cream, and here it is, the trail of legitimations (in the form of reviews) the art world has handed me since 2000, during exactly the same period that the music world has been withholding legitimations (in the form of reviews):
2000
Holland Cotter
Innovators burst onstage one (kapow!) at a time!
New York Times
November 10th 2000
(I'm so glad my first important art review had such a pop title! "Kapow" indeed!)
2003
Sukdhev Sandhu
Ludic Relish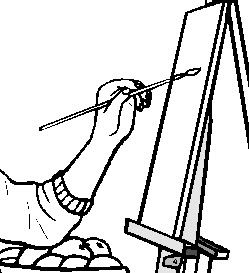 Modern Painters Summer 2003 issue
July 2003
London
(I couldn't believe it when Cherry Red told me "We don't have any music magazines interested this time. But Modern Painters magazine wants to run four pages on you!")
2005
Roberta Smith
Momus and Mai Ueda
New York Times
July 1st, 2005
(This was an important one; if Roberta Smith likes you, you're really "in the belly of the beast".)
2006
Jeff MacIntyre
The Biennial, Unexplained
New York Times
April 2, 2006
So, I would appear to be "an artist". The art world appears to have claimed and legitimated me. I'm happy to be here. And in a sense, powerless. It isn't entirely up to us what we're perceived as. Other people also have a say, and we have to respect their views on our role.
For me, I still think the most powerful stories I tell are my songs. I think of that as my vocation. But I'm not sure if I can call it my profession any more.
I remember a conversation I once had with my brother, in a car somewhere in Scotland, years ago. I'd just told him I was "an artist". My brother didn't like that at all.
"Nobody should say 'I'm an artist,' the same way you shouldn't say 'I'm spiritual'. These things are for others to say," he warned me.
Well, it seems those "others" have finally spoken. I'm an artist, so, you know,
kapow
!