This is my last weekend in New York before I head back to Berlin next Friday. Tonight, as a sort of "farewell New York" party, I play
Tonic
with my old friends Toog and Fashion Flesh. The show runs from 8pm to midnight and the bill is: Toog, Fashion Flesh, Momus (accompanied by Fashion Flesh). Tonic is at 107 Norfolk Street on the Lower East Side (212 358 7501). This will be my only proper North American music gig this year, and I'll be previewing my forthcoming record "Ocky Milk" (which has now been delivered to the record labels).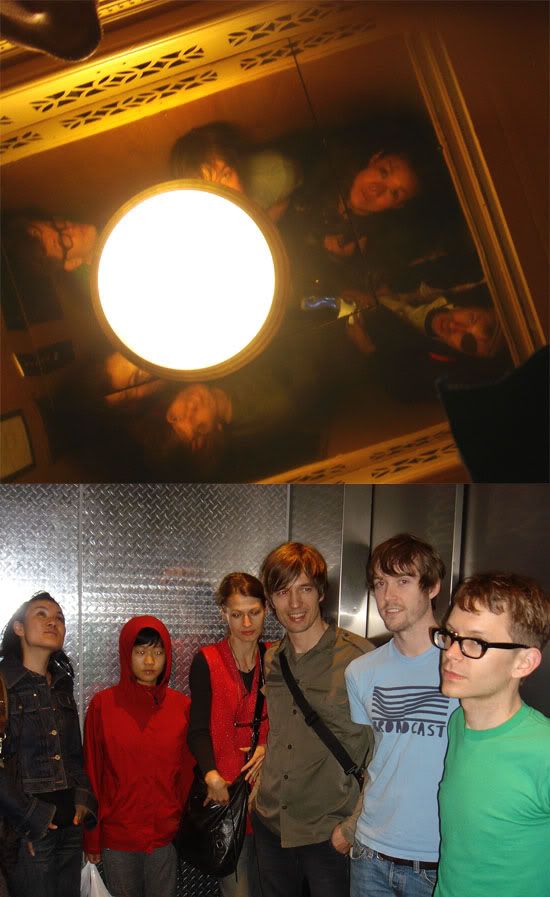 Here we all are in elevators yesterday (one leading to the Boesky Gallery in Chelsea, where there's a fun
John Waters show
, the other to Karin Komoto's apartment on 16th Street at 6th Avenue). Left to right in the lower photo: Karin Komoto (star forever),
Yuh-Shioh Wong
(painter), Florence Manlik (artist and illustrator, check her fantastic
drawings blog
),
Toog
(poet and best friend), John's friend Brent, and John Talaga himself (
Fashion Flesh
). See you tonight!