Thursday, my last day at the Whitney, was brightened by the appearance of Arto Lindsay. Arto now seems to be spending almost all his time in Brazil, where he's bringing up a child with his wife.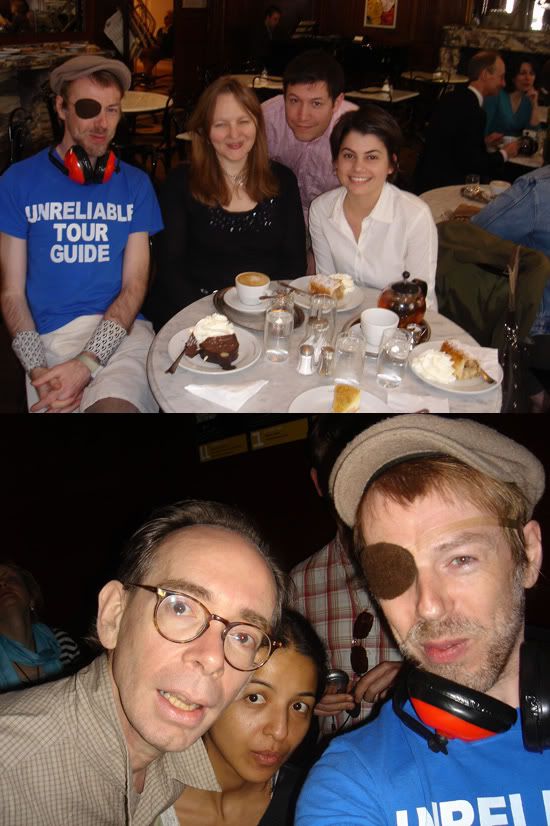 I then went for
milchkaffee
and marzipan cake at the
Neue Galerie
, on the corner of West 86th Street and 5th Avenue, with Chrissie Iles and two members of her curatorial staff. This German (and Austrian) museum (lots of Paul Klee on display at the moment) has the most amazing dark wood café, Café Sabarsky, modelled on the
sort of Viennese café
Karl Kraus
(bit of a hero of mine back in my more satirical days) would have frequented a hundred years ago. The conversation was lively, and the cake was excellent. Café Sabarsky resembles Berlin's Café Einstein too, so it serves as a sort of cultural decompression chamber for my flight to that city later today.
I have enormous thanks to give to Chrissie Iles -- and of course co-curator Philippe Vergne, whose fundraising, administration and exhibition organization in his new job at the Walker in Minneapolis have kept him away from New York somewhat -- for the last three months. Playing the "Unreliable Tour Guide" has been a thoroughly interesting, outrageously enjoyable exercise in freedom of speech, real-time writing, situational composition, stand-up comedy, art criticism, officially-endorsed pranksterism, political commentary, and, well, just damned pantywaisted Eurotrash foppery. I've loved every minute, so thanks a million, Chrissie and Philippe! (And thanks also to the museum guards, whose enthusiasm and good humour have been a real filip. I spent some time on Thursday photocopying an article in Parkett magazine to give to Claude McKay junior, nephew of the Harlem Renaissance poet
Claude McKay
, and a poet in his own right. The article, about Ellen Gallagher, mentioned the poet-guard.)
Thursday evening was spent with Christie's curation student Elsie Heung, artist Hiroshi Sunairi, another Japanese artist, and Jing Yu from
Chambers Fine Art
. After catching some
Asian Contemporary Art Week
openings in Chelsea (
Hiraki Sawa
's delicate videos of imaginary animals walking in animated outline around his London flat, and a film by New Humans member Mika Tajima), we slurped noodles in the East Village and Hiroshi sang the complete works of Prince
a capella
.
My adventures in the art world continue with a series of daily texts I'll be e mailing to
Blow de la Barra gallery
in London's Heddon Street (the street depicted on the cover of Bowie's
Ziggy Stardust
, and also the site of Frida Strindberg's legendary cabaret The Cave of the Golden Calf, hangout of Vorticists like Wyndham Lewis) for the staff to perform. I'll be in London at the end of June for the opening of their group Summer Show, curated by Mathieu Copeland. But the rest of the year is basically me in Berlin, writing a book for Paris publisher La Volte called
Lives of the Composers
. Oh, and playing with my black, pantywaisted Eurotrash rabbit.