Now here's a thing. A tale of two families.
My parents are called Bill and Jo. Bill went to Glasgow University in the 1950s, sharing a mews house with his brother John. Bill and John are the sons of the late Grandpa Currie, a soft-spoken, gentle, fiercely religious Prestwick man who worked all his life as a railway clerk and made preaching tours of Scotland, spreading the message of Calvinist sect the Plymouth Brethren. After graduating,
my uncle John
became a successful classical musician, a choral conductor with the Scottish Opera Chorus and his own group, the John Currie Singers. He spent several years in Los Angeles, where he worked as the conductor of some high-powered choir, and came back with a broad, white American smile.
In the late 50s, around when Bill married Jo, his brother John married Barbara. Both couples had three children; John and Barbara's were called Abigail, Rachel and Justin, Bill and Jo's were Nicholas, Mark and Emma.
Growing up, I don't remember visiting John and Barbara much. There's a funny picture of me and Abigail, wearing woolly clothes, sitting on a bench together. I have a huge grin, she looks glum. But I suppose the brothers drifted apart. Bill moved to Edinburgh, John was in Glasgow, then took a job in Leicester for a while. Because Justin was about five years younger than me, I didn't really have a sense of him as a person. I remember playing in the back garden with him on the eve of our emigration to Canada. But I remember his sisters better: Abigail bossy, Rachel sweet.
The next thing I remember is Justin at Grandpa Currie's funeral in 1983. Suddenly he was a strikingly handsome young man, looking rather like Harrison Ford in "Bladerunner". I heard he was in a band. They were called
Del Amitri
. So was I, a band made up of ex-members of Josef K called The Happy Family. I remember checking out Justin's record collection once and being impressed to find records on the Factory label. Next thing you know we'd both made records. There was a Del Amitri 45 called "Sense Sickness". It was a dense tapestry of melodic guitars, pretty good.
Then suddenly Del Amitri were on Chrysalis. They released an eponymous debut album which
Justin
joked should have been called "The Fear of Sexual Intercourse". It consisted of literary songs of youthful yearning, set against subtle cat's cradles of guitars. Not trendy, but good, with an arty sleeve by someone called Chris Orr, a drawing of a boy wrestling a female mannequin to the floor. The album did nothing much, but the band scored a Melody Maker cover and got played on John Peel. Meanwhile my band made an over-ambitious concept album for trendy indie 4AD (Justin liked it!) and split up. I went back to university and finished my English degree.
Around the time I moved to London and re-invented myself as Momus, Del Amitri were doing the re-invention thing too. They got dropped by Chrysalis, toured America, and re-emerged in 1988 on A&M records. I was living in a tiny bedsit near Sloane Square, making albums like "Tender Pervert". Arty records influenced by Mishima and Bataille all about God being a masturbator and his angels voyeurs (Grandpa Currie spun in his grave). Suddenly Del Amitri were all over TV. They had a song called "Nothing Ever Happens", pretty good in an Elvis Costello sort of way. And then Justin's face, framed with trademark sideboards, was all over posters on the King's Road. He'd become a bona fide popstar!
I had a lame shot at pop stardom myself with my single "Hairstyle of the Devil", but failed to crack the UK Top 50. Del Amitri, on the other hand, started charting Top 20 singles and albums on both sides of the Atlantic. I remember hanging out with Justin in the bar of London's Columbia Hotel in 1990 after a show he'd invited me to. He radiated pop star aura, surrounded by a court of admiring women. He wasn't just a talented bassist, singer and songwriter, but also handsome, self-deprecating and funny, with a surreal Beatles-esque sense of humour. He used to send me postcards from all over the world, and his voice would follow me on my travels; I remember hearing his hit "The Last To Know" in a hotel room in Tokyo in 1992. The band's album that year reached number 2 in the UK album charts. My albums that year, the trippy electronica of "Voyager" and the horror cabaret of "The Ultraconformist", created barely a ripple in the indie charts.
It must have been around then that, responding to a questionnaire from the NME which asked "What makes you cry?", I answered "Del Amitri". Later, interviewed by David Quantick for the paper, I sniped something about Del Amitri being "bound to fuck up". I was quoted out of context; I actually said that the thing about being on a major label is that you
don't
have the right to fuck up, and that right is tremendously important.
Without
the right to fuck up, you fuck up.
I sort of lost touch with Del Amitri's records; I'd be in a supermarket and hear a song that sounded like contemporary adult-oriented rock and wonder "Now is that Sting or is that my cousin Justin in Del Amitri?" Sometimes it was Sting, and sometimes it was Justin. The records were called things like "Roll To Me" and "Driving with the Brakes On" and (self-deprecatingly) "I'm Not Where It's At". One was even the official song of the Scottish World Cup Team. They were always well-sung and polished, with better lyrics than you'd expect from chart pop. But their American blandness rather depressed me. I couldn't feel about Del Amitri the way I felt about their first album. They'd achieved everything I hadn't in the music industry, and somehow they'd become the enemy of all the arty eclecticism I loved in music. I lost touch with Justin altogether.
Well, eventually Del Amitri did fuck up: their sales dwindled (meaning they sold only 100 times what I sell, a big failure for a big label) and they split up after a final album in 2002. After that Justin made a jokey and actually very interesting album under the pseudonym
The Uncle Devil Show
.
And now he's working on a solo record. In an attempt to interest labels, he's put four tracks up on a
MySpace page
. Two of the songs have "love" in the title. They have nice folksy arrangements, with harmonium and banjo as well as piano, strings and guitar.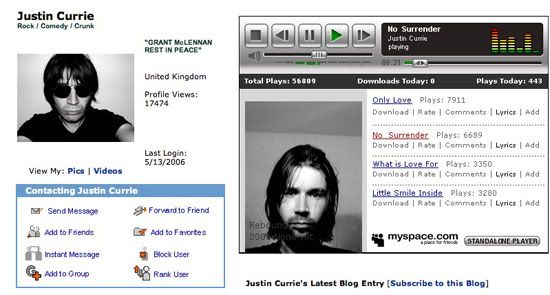 So what do I think of Justin's new stuff? Assuming that it matters a damn what I think (and it really doesn't), I'll tell you. I think it's good, though it's clearly a million miles from the sort of thing I'd ever buy or even download. Justin's very gifted, a much better musician and singer than I am in many ways. You can hear that he's got the potential to touch on universal themes, to move people. His American accent worries me a bit, his 80s-style phrasing, as does the over-sentimentality of the songs. They're maudlin, bittersweet. They also oppress me a bit with their "good taste", which of course in my squinty inverted world is bad taste. Over undulating "classic" chord sequences and arrangements, Justin crams in words edged with dadrock disgust: "Big Macs for the fat, low-cal wraps for the call-centre battery hens, Japanese snacks for the choice-spoilt citizens, caviar kick-backs for the citadel denizens..." I can hear something Grandpa Currie-ish in that disdain for modern life, something Old Testamental.
The chords in "What Is Love For" are fresher, they undulate intriguingly. This is pretty good stuff: "Did Joan of Arc drag anyone back from history's flames?" lilts Justin, as a harp twangles and the strings saw. It's kind of too good for the big commercial market; weirdly enough, too commercial to be commercial, and not weird enough to be commercial. Radiohead, Coldplay and Primal Scream all seem like arty experimentalists compared to this trad, well-made, "timeless" stuff. Even Robbie Williams comes off as daringly post-modern beside it. It goes without saying that it's a million miles from the bizarre, deranged conceptual ditties I now do, hand-tooled to sound as if they were recorded under water. No doubt there are a few Momus fans who wish I'd make something like this, though. Momus fans who read Mojo and think "I Want You, But I Don't Need You" is the best thing I've ever done. Hell, maybe they're right...
"Hey JC!! One of the greatest song writers of all time!!" writes a fan called Alan below Justin's MySpace songs. "When I read that Bell and Sebastian had been voted Scotlands greatest band of all time I was astounded!! No other band has produced consistant brilliance like Del Amitri, and it was a national scandal that you guys were overlooked..."
Well, obviously I wouldn't go that far. Belle and Sebastian's last album has 26 songs on it, none of which mention "love" in the title. Nevertheless Stuart Murdoch, who sings in his own natural accent, sounds as if he likes people. The arrangements on "The Life Pursuit" are light and bouncy, the lyrics quirky and funny. The songs are comfortable; you can imagine people living in and by them. They lack Currie-esque bile, a bile I've managed to turn into funny ballads about sperm filled with interesting bubbling noises, and Justin has turned into "classic songs". The musical equivalent, I'm tempted to say, of "that interesting play,
The Second Mrs Tanqueray
". If Mojo-reading Momus fans are allowed to say they wish I'd go back to a bedsit and pick up my guitar, I'm allowed to say I wish my cousin Justin would record something under water. After all, even The Beatles experimented.
Or maybe it's time -- Justin, are you listening? -- we Curries made a record together.