It's one of those "welcome back to Britain" moments. Lying on the seat on the Stansted Express is a copy of a newspaper called Metro. The lead story is headlined "Chop of the pops". I pick it up and read: "Iconic music show Top Of The Pops is being axed by the BBC after a 42-year run. The chart programme is being dropped in the face of plummeting viewing figures and despite a last-ditch relaunch last year."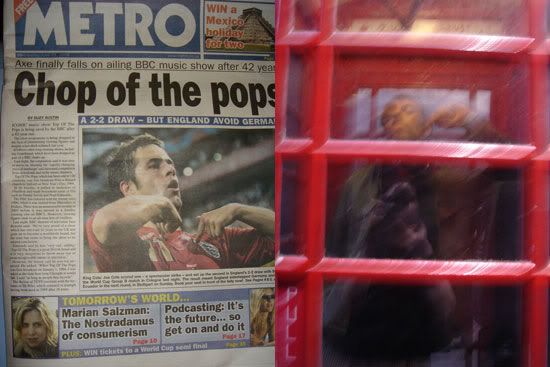 I'm a member of a generation for whom Top Of The Pops really meant something. On Heddon Street, after my art opening at
Blow de la Barra
, I pose as Ziggy Stardust in the
phonebox
where David Bowie, in 1972, shot the pictures for his album about an extra-terrestrial rock star. The album was the second record I owned, and I remember being 12 and gazing up in wonder at the TV in the boarding school commonroom, watching Bowie playing Ziggy in
his TOTP performance of "Starman"
, the album's lead single. "Switch on your TV you may see his light, if we can sparkle he may land tonight, don't tell your papa or he'll get us locked up in fright", Bowie triple-rhymed, mincing at the mic with Mick Ronson.
Metro quotes
Sir Jimmy Savile
, who isn't surprised at the show's demise: "When Top Of The Pops was first broadcast on January 1st, 1964 I was asked at the time how long I thought it would last. I said "as long as people buy records".
The death of Top Of The Pops really does feel like the end of a certain subculture in Britain. Add it to the death of John Peel and the closure of Smash Hits magazine, and it really does seem like one of the few truly magical British things, an Aladdin-like pantomime that made this place special, has risen... and fallen. It's lost its mojo. It's now strictly retro.
Walking down to see the show at the ICA, my head crowds with thoughts. So now I know for sure: I'll never be on Top Of The Pops. Well, that's no big surprise. But I wonder if it's really worth pursuing a project I've talked about semi-seriously with my niece Ellie, a project to write songs for her one day and make her "the Scottish Kahimi Karie". Really, what's the point if there's no Smash Hits and no Top Of The Pops? Where would this project take place? What picture would we have of its success? What would we be doing it for? The ringtones?
I look into what used to be Tower Records, Piccadilly Circus. Now it's a branch of Virgin. I want to know if I still "exist" here, with my own divider in the Rock and Pop section. I'm rather surprised to see that I do. They have four Momus albums, mostly compilations.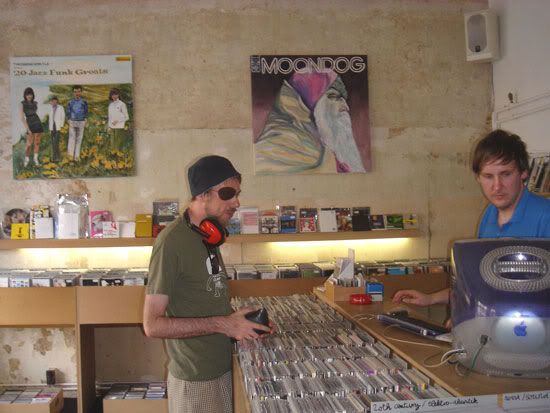 I think back to when Virgin Records in Edinburgh was a tiny dark, exciting place, the size of Dense on Berlin's Danziger Stasse, with the same feeling of subcultural secrecy about it. I think about how I went into Dense the other day and asked a friend to photograph me buying two CDs, The Mountain Record by Yuichiro Fujimoto and
The Correct Use of Pets
by
Hypo
and EDH (Emmanuelle de Hericourt). "I have the feeling these might be the last two records I ever buy," I joked, "so you'd better take a picture of me doing it!"
And I think of something I read in Exberliner magazine, in a feature in which people are asked why they live in Berlin. "I'm here," says one respondent, "because it feels like Berlin is the last city with a real underground".
Now, Top Of The Pops wasn't an underground thing. It was a commercial beast, despite being on a government channel. But to buy records by the artists it showed, back in the 70s, you had to go to dark, cheesecloth- and joss stick-scented places like the tiny Virgin Records on Thistle Street, and flip through big-sleeved, groovy records by Gong and Mike Oldfield. And Berlin record stores like Dense still have that feeling, like they're part of a secret society, and that someone, somewhere might get you "locked up in fright" as a result of some glamourous madness you might find there. But somehow the link between mainstream culture and these dark secretive places now seems gone. Pop music's inventive subversions will continue on the margins, in the shadows. But pop, in Britain at least, will never again command the attention of a whole society, and lead whole generations of children, Pied Piper-like, Ziggy Stardust-like, towards marginal, creative, shadowy places.
Well, not at 7.30 on a Thursday evening, anyway.