London is a city of "toxic vitality". Let me for-example you. Breakfast yesterday took place at
Konstam
on the King's Cross Road. Suzy and I sat down to enjoy a greasy fry-up reconceptualized for the chattering classes (de-greased, in other words, and served in a cafe with a corkboard wall decorated with a drawing pin deer) when in walked Matthew Collings, the art critic. Being a bit of a
Collings fan
, I looked forward to some juicy eavesdropping, but traffic so overwhelmed human-scaled sounds that all I could catch were a few snatches here and there. Example: "I used to get my hair cut regularly by a lovely girl called Joanne. But when I went bald I stopped going. I went instead for a £4 shave. But [to artist friend with full head of hair] you've got a wonderful head of hair, like the Bay City Rollers!"
Okay, I just shoe-horned that in because I wanted to namedrop Collings and his 70s reference points. But let me tell you that I will be contrasting, in this entry, London's "toxic vitality" with the "benign sobriety" of graphic designers Åbäke and
James Goggin
, with whom I lunched. Shooting the sleeve for my
Ocky Milk
album at his Shacklewell Lane studio (the area itself surges with a vitality so dangerous the police have had to launch a local initiative called "Operation Minotaur", which seems to consist of rather sinister LED panels flashing words like "security" and "anti-social behaviour"), James put into my hands some examples of his work: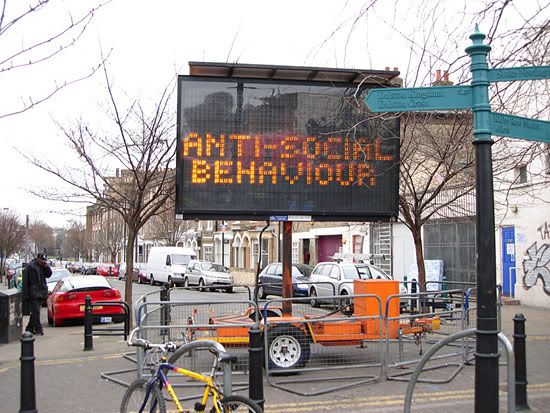 * One playfully restrained book of Jeremy Deller and Alan Kane's "Folk Archive", which, like John Berger's "Ways of Seeing" (its design inspiration), launches into a text-and-image exegesis right from the front cover. "Folk Archive" has an "educational materials from a more sober British age" look to it which I love; a conspicuous
anti-vitalism.
* Alison Turnbull's
"The Family Beds"
, a book detailing the classification of orders and families of flowering plants. James bound this book in a durable dark olive rubberised cover, like a guide book or a diary. Inside he gave it an introvert's rich interior: page-groups (following plant groups) printed in bright bands of colour.
* Alison Turnbull's
"translation"
of Mishima's Spring Snow, printed in the pleasingly restrained style of a Japanese
bunko
paperback. (Turnbull has arranged over six hundred colour references in Mishima's novel into a colour palette.)
These works bespeak the poetry in desurgency, vivid colours hidden within the shell of an introvert. As such, they're actually indicative of one possible reason London's "toxic vitality" actually helps rather than hinders the "benign sobriety" of which I'm speaking. Many people in big cities, overwhelmed by stimulus, turn to quiet and measured activities. At an artist's talk given by Karl Holmqvist (my fellow artist in the
Blow de la Barra
show) on Vyner Street last night, Karl spoke about his surprise, on arriving in New York, to discover many poetry events listed in the Village Voice. It shouldn't be surprising: to listen to something quiet and intense at the end of a mad big city day is deeply pleasing. London too had a strong poetry scene when I arrived in the city, and I used to frequent clubs like Terrible Beauty at the Troubadour in Earl's Court. They were deeply, refreshingly,
quiet
.
It's ironic that I've escaped a sober city in the grip of an anomalous vitality (Berlin during the World Cup) and come to a vital city, only to find the pleasures of sobriety here, scattered in secret enclaves amongst the ferocious money fever so well-described by this panel spotted at Smithfield House (it's a part of the Big London Brainstorm, an event in the
London Architecture Biennale
going on just now):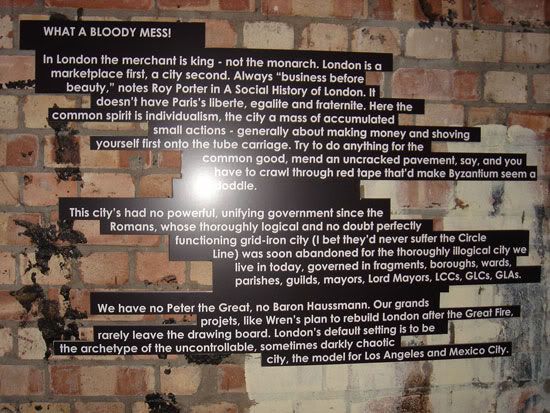 On Sunday I will again be battling, with my whispery efflorescence, the city's imperturbable commercial effervescence: I will insult London's mercantile ethos by performing a free show at 7pm at the George and Dragon, a pub located at 2 Hackney Road (near the junction with Shoreditch High Street). Pablo de la Barra, who's organized this, tells me that Sunday evening is a gay night in every possible sense, and that things get really wild after 9pm. I, though, will perform just before the watershed. To pindrop silence, no doubt, and oceans of deeply lovely sobriety.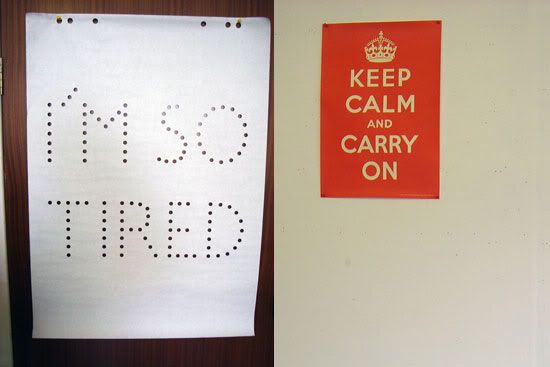 Oh, and whisperings continue at
Blow de la Barra
, where my spoken word art installation is being held. I can now reveal the first two phrases, whispered to gallery visitors on Wednesday and Thursday:
Wednesday June 21st
"The encounter with the new person continues, after having suffered hardship with lighting."
Thursday June 22nd
"Smell of the source of the callous burning and the Japanese pancake."