Berlin is a city of festivals; for the godless aesthetes and connoisseurs of the edgy and the avant who live here, the Christian calendar with its seasonal flux based on sacrifice, miracle and harvest has been replaced by a weird postmodern grid marking the changing seasons with events called Transmediale, Designmai, and Sonambiente.
So where are we? Ah yes, August. Time for
Tanz im August
.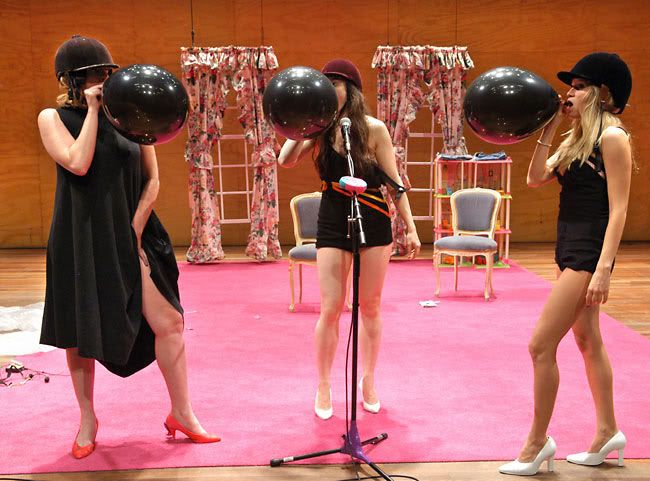 Yesterday I bought a festival pass to the August dance festival, buying over a hundred euros' worth of tickets for eight events. The second half of my month will be filled with bodies in motion, pink carpeting and black balloons.
One thing I like about dance is the way it sets out to communicate without language. Choreographers have to make up a personal way of getting something across using textural cues: light, movement, the body, gesture, expression. Language is incredibly powerful, but it blocks certain things from our consciousness, and those things are big truths, and when you banish language those truths come to the fore. (They also come to the fore when you have a close relationship with an animal; if my rabbit could speak, I think I'd know less about him, not more. I'd just get a lot of conceptual spin. He's a cunning rabbit. This, by the way, is also why I feel "understand" stuff about Japan without speaking much Japanese.)
But how on earth do you decide which performances to see, out of dozens listed in a festival programme, when you have to book seven or eight in advance, and all you have to go on is text and pictures? I'd heard of some of the companies --
Boris Charmatz
, for instance,
my favourite choreographer
, was a must. And I'd seen
Louise Lecavalier
(ex La La La Human Steps) dancing with David Bowie at an ICA benefit called "Intruders at the Palace". But for the rest, all I had to go on were blurbs. Words about something beyond words.
The texts made by dancers, like the ones cooked up for catalogues by visual artists, often sit somewhere between disappointment and disaster; pretentious, stereotypical, waffly, they diminish our respect for people who are really masters of something else, the unspeakable which should remain unspoken.
So, although Le Soir urged me to go and see
Michele Ann de May
because "the assurance of the composition, its sunny theatricality and the luminous generosity of the dancer-individuals impart a fragile and overwhelming humanity", I booked a seat because of
the hot picture
.
Benoit Lachambre
hit my post-materialist buttons with a text stressing "environmental, curatorial projects... communality... the test ground for empathy, influence and new social organisms of collective bodies and cohabitation... spins the frivolity of a futuristic musical, the boldness of science fiction with the yarn of utopian thought." He knows his audience.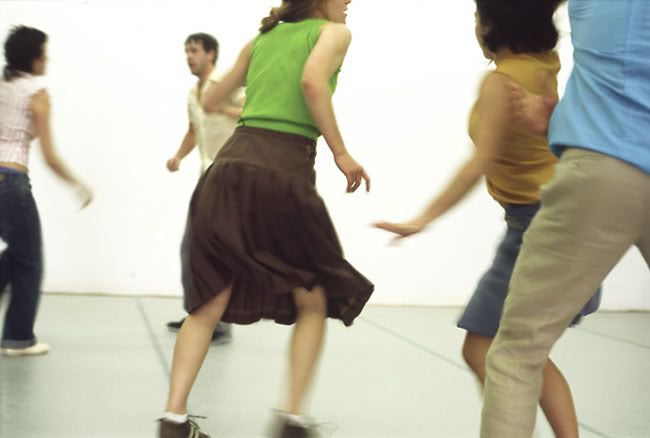 Mette Ingvartsen
located my inner puritan-sensualist with her cleverly ambiguous blurb "reinscribing" the sexual body: "Pleasure has become an obligation. We are constantly inundated with images of sexual bodies. Commercials, films, magazines, the Internet, all kinds of media display the intimate and the erogenous. Images of naked flesh, body fluids, skin, breasts, and muscles are no longer confined to late nights and dimly-lit, seedy corner joints, but are fed to us on a daily basis. We can't just click "cancel" and control the manipulation of our desires and how they affect our perception of the body in general. Mette Ingvartsen's third group piece, TO COME, is a work on concepts of pleasure and desire that reassesses how bodies can connect and reconnect to allow new forms of pleasure to arise. The performance presents a wild rush of sensual color, rhythm, speed and physical energy." Hottness without commercial overkill, nice.
Figure 8 Race Remix
put me off with talk of "the fascination exerted by motor sports and crashes" (what fascination? I hated that Cronenberg film) but a Japanese choreographer and some sense that it might be a bit like Richard Foreman's Ontological Theater made me sign up.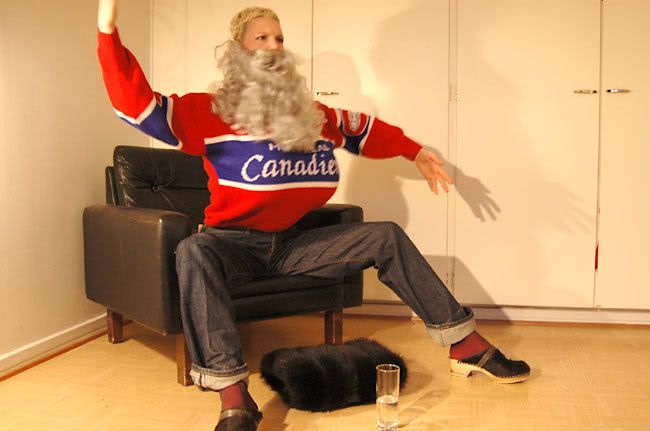 As for
Antonija Livingstone
, a chick wearing a Santa beard is generally a guarantee of a good time. Her (slightly-too-post/structuralist) blurb reads:
"A nomad both as an artist and in her private life, Livingstone is concerned with the forces that govern home(s) and with the issue of homing in on a location, an identity, dance, or another body. THE PART is a playful exhibition and analysis of the lot of the (per)former: playing THE PART one has to play and performing a kind of autopsy on the location of the playing – a dancing of site and sound in which repetition and inconsistencies are inevitable. Antonija Livingstone dares to question what her body thinks it knows about dancing and choreography and to continue to subvert its habits and identity."
Bodies that subversively subvert themselves, nomadism... hmm, cliché alert. Designer Rafael Horzon was probably very wise to advise me to tone down talk of nomadism in
the lecture on the architecture of "Howl's Moving Castle"
I'm giving his "Elite Universität" and "Wissenschaftsakademie" (in fact it's just his Redesigndeutschland office at Torstrasse 94) at 8pm on Saturday, August 26th. Nomadism is just too big a cliche in Berlin, Horzon says. Perhaps I'll avoid all such traps by, quite literally,
dancing
about architecture.