How out of touch -- and yet totally in sympathy -- can you be? I watched a YouTube clip of
Look Around You
, Episode 1, Series 1, Module 1:
Maths
on
Mischa's blog
thinking it was something from the 1970s, and laughed all the more uproariously when the dry, absurdist jokes came along. I quickly realized this was a brilliantly-designed, rather convincing spoof on the familiarly weird educational TV we had in Britain in the late 70s and early 80s, stuff like The Open University. (Here, to give you an idea of what that was like, is a little clip from a real Open University module about
Pi Tangent Functions
.)

And here, without further ado, are the eight ten-minute modules of the first series of Look Around You, which isn't a 1970s educational series, but a comedy series screened on BBC 2 in 2002. The whole series is
on YouTube
, but you can also buy it
on DVD
with extras:
Module 1: Maths
Module 2: Water
Module 3: Germs
Module 4: Ghosts
Module 5: Sulphur
Module 6: Music
Module 7: Iron
Module 8: Brain
Look Around You was created by Robert Popper and Peter Serafinowicz. They met in 1998. In an
interview
, Popper explains that "we had this shared experience of being forced to watch horrific schools science modules at school. We realised it was basically a pretty untapped area. We decided we should write something based on those old shows".
They made a 20 minute short called "Calcium", which led to a deal with production company Talkback (known for Chris Morris shows like Brasseye and The Day Today) and a commission from the BBC.
"Once we started writing we then watched lots of stuff - shows like "Experiment", "Physics In Action", generally the work of writer/director Jack Smith who made all those educational shows. We watched a lot of old stuff and kind of ended up talking in the narrator's voice and one day "Look Around You" came out. When repeated it's kind of bullying. We liked that... We loved the vaguely dictatorial tone of stations like Radio Moscow, and all the music used. All very heraldic and bombastic. That influenced us when we did the music certainly, and we listened to lots of Boards of Canada, Benge and Warp artists. Stuff like that."
The visual brilliance of the series is down to Gideon Corby of
Shynola
, also responsible for the brillant graphics in the Chris Morris series Nathan Barley (they had DVD owners freezing frames frequently, only to find insulting messages from Morris addressed to "DVD wankers!"). The gloopy synth music, credited to "Gelg", is also by Popper and Serafinowicz.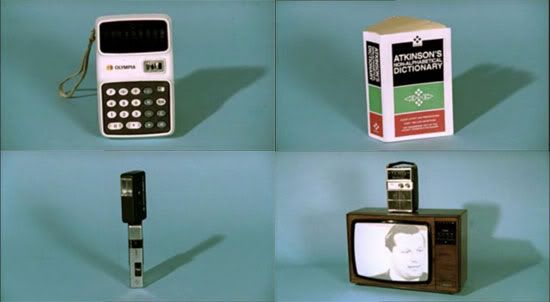 After my initial confusion, I began to feel, as I watched this brilliant series, that I knew
exactly
where its aesthetic was coming from. Conceived in 1998 just like my "Little Red Songbook" album, wasn't this "Analog Baroque TV"? (The Analog Baroque style was actually inspired by the music for an Open University unit entitled
Christopher Plantin, Polyglot Printer of Antwerp
.) Didn't it relate to my trajectory, in the mid- to late-90s, away from the pre-chewed "otherness" of neo-retro-lounge music and towards an even further-out "radiophonics" style influenced by Raymond Scott, Plone, Boards of Canada and Delia Derbyshire? Didn't it recall the brilliant 80s Peel session "Let's Evolve!" by conceptual pop group Sudden Sway, also a "module", and also a spoof on the Open University? Wasn't it close to the theme music I made in 2000 for
Questia.com
commercials, some of which can now be heard introducing my
Wired podcasts
? And weren't the Wired pieces I now write on things like piezoelectical systems getting perilously close to the science nerd chic so affectionately parodied in these shows? Wasn't there some parallel between the sans serif, 70s science didactic style of Look Around You and the
"benign sobriety"
of my current favourite graphic designer, James Goggin? And didn't the academic-absurdist humour of this show remind me of my favourite French cartoon series of the 60s,
Les Shadoks
? Wasn't this the TV equivalent of The Unreliable Tour Guide?
Apparently Look Around You re-appeared in 2005 with a Series 2 which models itself more on Tomorrow's World (BBC1's long-running technology series, which used to air right before Top of the Pops every Thursday), and sounds, to me, slightly less original than the first series -- although based on sketch clip
Birds of Britain
, it's just as funny.
"These fascinating creatures came to our planet suddenly in 1962," the narrator tells us. Note that down in your copy book.